Easy Peanut Butter Cookies
This post may contain affiliate links. We may receive a commission if you click and purchase something. Please see our disclosure policy for more details.
Peanut Butter Cookies
Do you love the taste of warm cookies straight from the oven? If you are also a fan of peanut butter, try this Easy Peanut Butter Cookies recipe. Preparing the cookies from scratch is a lot easier than you might think.
When you follow this recipe using all the essential ingredients, you will have up to 40 cookies to eat and share with others.
Ingredients to Make Peanut Butter Cookies
Prepare the Easy Peanut Butter Cookies from scratch using the following ingredients:
Creamy Peanut Butter. The peanut butter is the most important ingredient to have when making these cookies.
Butter. You will need one stick of the unsalted butter.
Brown Sugar. Combine packed brown sugar to your mixing bowl.
All-Purpose Flour. Use the flour to create the perfect dough for your cookies.
Baking Soda. Add baking soda to get your cookies to bake evenly and perfectly.
You will also need milk, vanilla extract, egg, salt, and granulated sugar. The granulated sugar gets used when you are ready to roll your cookies.
Which Peanut Butter Should I Use?
It is best to use creamy peanut butter. The brand does not matter. You can use your favorite brand, such as Jif or Skippy, or use a generic brand for the cookies.
Be sure to taste the peanut butter before using it in your cookies because some options taste better than others. You want to use a brand of peanut butter that tastes great.
Can I Add Ingredients to the Cookies?
If you would like to add extra ingredients to the cookies, you can do so while preparing the dough. For example, you might want to add mini chocolate chips or white chocolate chip morsels to the cookies. You can also add a few chopped nuts to give your cookies a crispy, crunchy texture.
How Long Does It Take to Make the Easy Peanut Butter Cookies?
It will take about 10 minutes to prepare your ingredients, create your cookie dough, and roll it out to make individual cookies.
Besides the 10 minutes prep time, it takes roughly 10 minutes for the cookies to bake in the oven. You can have delicious homemade cookies ready to eat and share with your loved ones in less than 30 minutes.
Download the free Baking Essential Printable
How to Store the Peanut Butter Cookies
After baking the Peanut Butter Cookies, allow them to sit out on a wire rack to cool down before you store them. When you are ready to store them, place them in an airtight container and leave them in the pantry or on the countertop.
The cookies should remain fresh for about a week when stored correctly. If you are making them for others to hand out as a gift, wrap several cookies in plastic wrap and place them in a gift box that you can seal to keep the cookies fresh.
Try These Easy Cookie Recipes
Save this easy cookie recipe for later. Pin these Old Fashioned Peanut Butter Cookies to your favorite Pinterest board.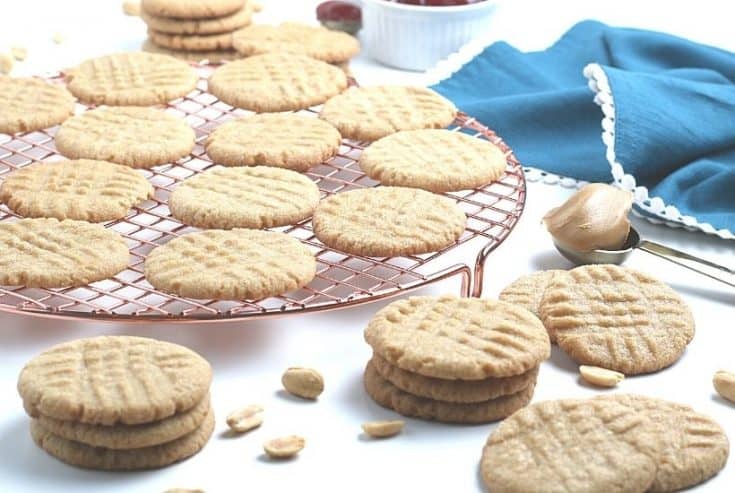 Yield:

36 Cookies
Best Easy Peanut Butter Cookies
Why buy cookies at the store when you can make fresh ones at home? Follow this Easy Peanut Butter Cookies recipe to make sweet and tasty cookies from scratch. Grab a glass of milk and enjoy this easy soft and chewy peanut butter cookie recipe.
Ingredients
¾ cup creamy peanut butter
½ cup (1 stick) unsalted butter
1 ¼ cups brown sugar, packed
3 tablespoons milk
1 tablespoon vanilla extract
1 large egg, room temperature
1 ¾ cups all-purpose flour
¾ teaspoon salt
¾ teaspoon baking soda
Granulated sugar for rolling cookies
Instructions
In a large mixing bowl, beat together peanut butter, butter, brown sugar, milk and vanilla extract until well blended.
Beat in the egg until well blended.
In a small bowl, whisk together flour, salt and baking soda.
Gradually add dry ingredients to creamed mixture until well blended.
Transfer to a bowl and cover with plastic wrap.
Place in refrigerator to chill 3-4 hours or overnight.
Remove from refrigerator.
Preheat oven to 350 degrees F.
Line baking sheets with parchment paper or a silicone mat.
Roll dough into ball and coat with granulated sugar.
Place on baking sheet. Using a fork dipped in water, make a criss cross on the cookies while gently pressing down.
Bake for 8-10 minutes or until lightly golden brown.
Remove from oven and cool completely on wire rack. Store in airtight
container.