The spicy flavors of the Caribbean take center stage in this delicious Grilled Jamaican Steak Flatbread recipe.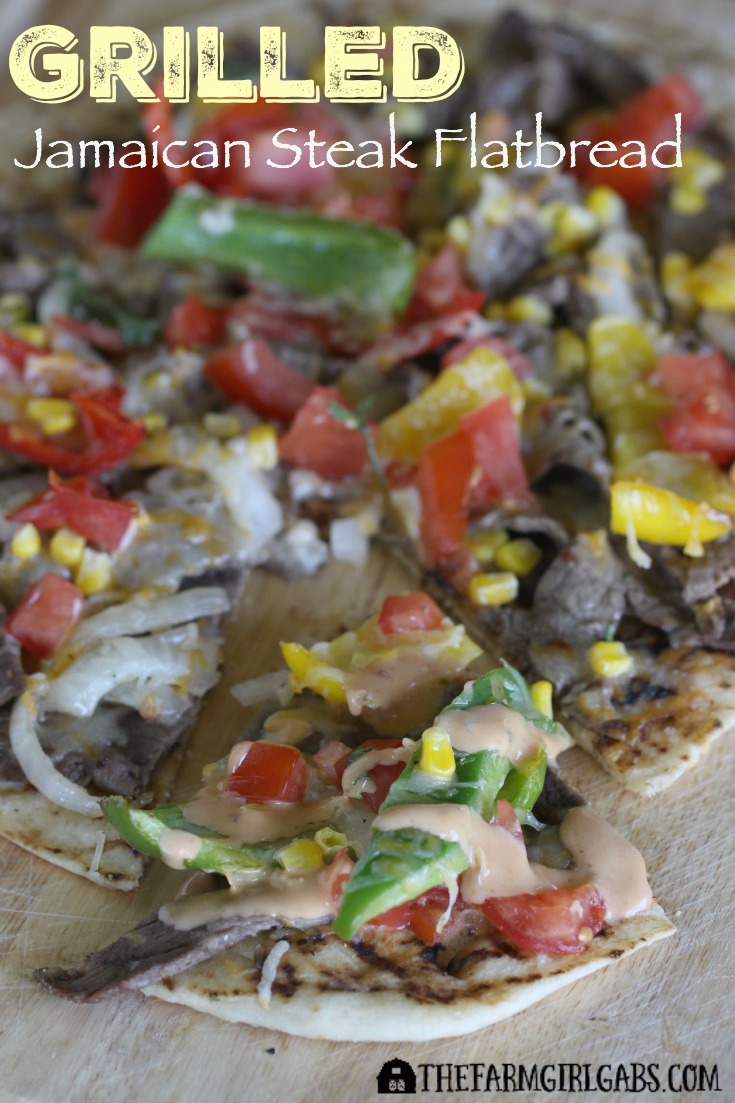 I have a secret obsession with grilled pizza and flatbread. I do. I really do! In fact, I am crazy about grilling in general. It's an all-year round occurrence in my house. I have been known to throw on my snow boots and fire up the grill on occasion. Grilled Jamaican Steak Flatbread is one of the many flatbreads I like to make. 
I originally planned to share this recipe with you during the summer months but time slipped away, summer faded into fall and here we are….at the end of October. But that's OK, if you are a real trooper who is an all-season griller, then you can just head outside and throw this baby on the grill. If you are a fair weathered friend, that's OK too. You can do all the prep work on the stove and then bake this flatbread right in your oven – in the warmth of your home!
I love how colorful this Grilled Jamaican Steak Flatbread is too. And, if you are not a fan of the Jamaican Jerk flavors, then you can skip marinating the steak. You can give the flatbread a South Philly Cheesesteak flair instead.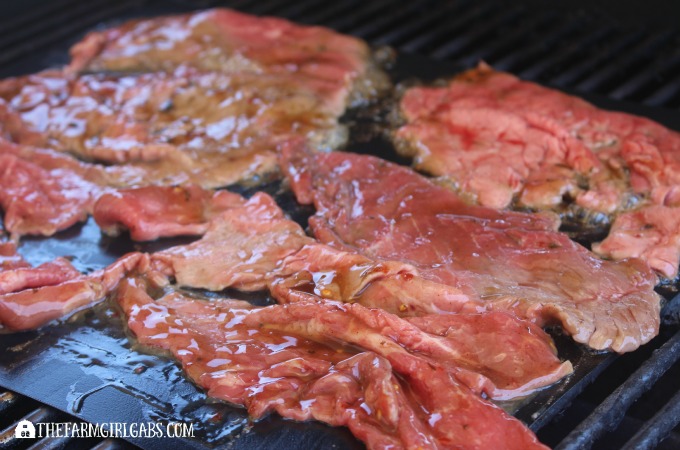 Another facet to my love of grilling is that all the mess stays outside. I grilled both the marinated flank steak…
….and vegetables on a Grill Mat – minimizing the mess in the kitchen and keeping the grill clean too.
I even grilled the flatbread on the grill mat as well.

Grilled Jamaican Steak Flatbread
The spicy flavors of the Caribbean take center stage in this delicious Grilled Jamaican Steak Flatbread recipe.
Author:
Melissa Russo / thefarmgirlgabs.com
Ingredients
1 lb. flank steak
1 bottle Jamaican Jerk marinade
16 ounce frozen pizza dough, thawed
¾ cup fresh or frozen corn
1 green pepper, sliced
1 red pepper, sliced
1 yellow pepper, sliced
½ cup onion, sliced
1 clove minced garlic
1 medium tomato, diced
2 cups cheddar cheese, shredded
Salt & Pepper to taste
Crushed red pepper, to taste
3 tablespoons fresh cilantro, chopped
Olive Oil
Instructions
Begin by marinating steak for about one hour in the refrigerator.
Turn grill to medium high, place grill mat on grill and allow to heat up.
While grill is heating, roll out pizza dough into a large rectangle (about 13" x 9")
Rub with olive oil over the pizza dough. Place dough on the grill and cook on 3 minutes on both sides. Remove from grill and set aside.
Add marinated flank steak to grill mat. Grill until cooked through. Remove and set aside.
Grill peppers, onions and garlic on grill mat for a few minutes until tender. Remove and set aside.
Return flatbread to the grill, Top with steak, corn, garlic, tomatoes, peppers and onions.
Add cheddar cheese. Close lid and continue to grill until cheese is melted.
Remove and slice.
I like to top my Grilled Jamaican Steak Flatbread with some blooming sauce. To make, mix some mayonnaise, ketchup, horseradish, paprika, salt and pepper together and drizzle over top. It adds another layer of zestiness!
Enjoy!

Pin along with me!
Follow Melissa {The Farm Girl Gabs}'s board The Farm Girl Gabs About Food Glorious Food!!! on Pinterest.

This post contains affiliate links. Please see my disclosure policy for details.

This post may contain affiliate links to help support this blog. Please see my