Enjoy the fresh flavor of a thinly sliced steak with cheese, onions, and peppers on rolls with this recipe for Philly Cheesesteaks.
This post may contain affiliate links. We may receive a small commission if you click and purchase something. Please see our disclosure policy for more details.
If you've ever visited Philly (or any of the towns surrounding Philadelphia), you know that it is famous for its Philly Cheesesteaks. These flavorful cheesesteaks are great to have for lunch and dinner.
Best of all, they're not hard to prepare using some of the simplest ingredients, including ribeye, sweet onion, and green bell pepper, along with several other simple, easy-to-find ingredients.
Ingredients for Philly Cheesesteaks
Before you prepare these tasty, cheesy sandwiches, you're going to need the following ingredients, all of which you can easily find at your grocery store:
Ribeye – You'll need 12 ounces of ribeye. Be sure to slice it into the thinnest pieces possible.
Sweet Onion – Grab your sweet onion and chop it into pieces or slice it into thin pieces.
Green Bell Pepper – You'll also need to chop your green bell pepper into small pieces.
Hoagie Rolls – You can't have these tasty cheesesteaks without the rolls!
Garlic – Grab a clove of garlic, peel it, and use a garlic press to break the garlic into small pieces.
Provolone Cheese – The cheese melts perfectly over the steak and adds an incredible taste to it. Ok, so if you are a true Philly cheesesteak fan, you know that Cheez Whiz is the go-to cheese. I am not a fan. But you can certainly add any type of cheese on your sandwich that you like. American is another great option.
You're also going to need kosher salt, black pepper, unsalted butter, and garlic powder.
Do I have to use provolone cheese on these cheesesteaks?
No, you can swap it out with other types of cheese. It's not uncommon for Philadelphia Cheesesteaks to have American cheese added to them. If you prefer American over provolone, feel free to use it!
Should I add any condiments to these cheesesteaks?
Although you don't have to add any condiments, you can add them! Some of the best condiments to put on these cheesesteaks are mayo and ketchup. Some people even like to add a bit of yellow mustard.
Do I have to use green peppers for this cheesesteak?
No, you don't. While this recipe calls for the addition of green peppers, which do add flavor to the cheesesteak, you can leave them out. Most traditional Philly Cheesesteaks don't have green peppers on them, so if you're looking for a more traditional flavor, you can leave them out.
Can I put the steak with cheese on a different type of roll?
Definitely! While hoagie rolls are great to use, you can put this steak and cheese on any type of sandwich roll, whether you want to use bread, a kaiser roll, or even a club roll.
How To Make A Philly Cheesesteak Recipe Tips
You can turn this into a cheesesteak hoagie by adding sliced tomatoes and shredded lettuce on top.
If you don't have a garlic press or don't want to deal with peeling fresh garlic, you can use pre-minced garlic from the jar to add that flavorful garlic taste to your cheesesteaks.
These cheesesteaks taste amazing when served with a side of cheese fries. You can melt the cheese on top of the crispy fries and serve them on the side. If you don't want to have fries, you can also serve these cheesesteaks with a bag of potato chips, which also go great with it!
Try These Easy Meal Ideas
These kitchen tools are important for making a homemade cheesesteak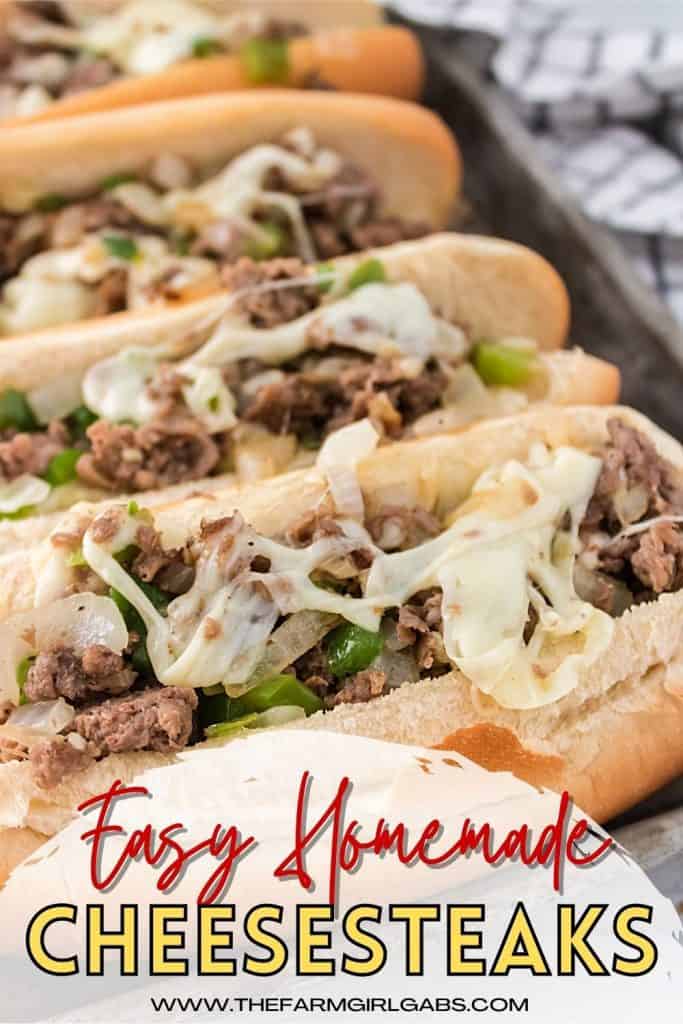 Yield:

4 Servings
Philly Cheesesteak Sandwiches
Enjoy the fresh flavor of a homemade Philly Cheesesteaks. If you've ever visited Philly (or any of the towns surrounding Philadelphia), you know that they are best known for the famous Philly Cheesesteak. This easy cheesesteak recipe is great to have for lunch and dinner.
Ingredients
12 oz ribeye, thinly sliced
1/2 sweet onion chopped
1/2 green bell pepper, chopped
4 hoagie rolls
8 slices provolone cheese
2 tbsp butter, unsalted
1 clove garlic, pressed
1/2 tsp kosher salt
1/2 tsp black pepper
1/2 tsp garlic powder
Instructions
Season thinly sliced meat with salt, garlic powder and black pepper.
Press one clove of garlic and mix it with the softened butter.
Add to hot skillet and sauté onions and peppers.
Remove once soft and add 1-2 teaspoons of olive oil (avocado oil also works).
Brown meat fully, add back in the onions and peppers.
Split into 4 sections in the pan.
Top each section with 2 slices of provolone cheese.
Once melted add the buns to the top of each section and scrape on the bun.
Serve hot and enjoy


Notes
You can any type of cheese you like.