Lemon Chicken with Fettuccine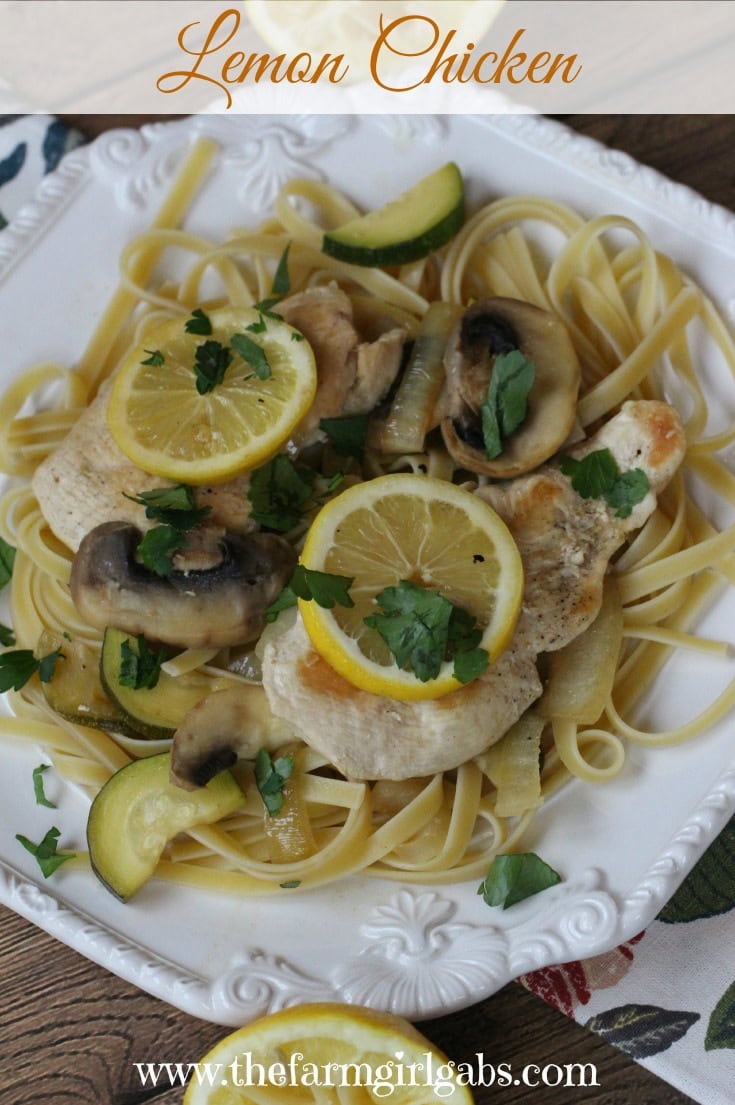 I feel like I have been sharing a lot of lemon-inspired recipes with you lately, but I can't help it. I love the refreshing taste of lemon. From desserts to main dishes, lemon is one of my favorite ingredients to cook and bake with.
I made this Lemon Chicken with Fettuccine for the dinner the other night and my husband went ga-ga over it. Anthony has always been my #1 fan when it comes to my cooking. He simply stated that this Lemon Chicken with Fettuccine was one of his favorite dishes that I have ever made. Now, we have been married for 23 years and I have cooked a lot of meals over that timeframe so that was a very humbling statement from him.
Since he declared this dish his all-time favorite, I just had to share it with you. I am slightly addicted to pasta dishes. Seriously, I think I am a carboholic. You can obviously use any kind of pasta you like for this but I happen to love fettuccine. I love using pasta as a base for a simple meal. Plus, there are less pots to wash too. I only used two for this dish and that is a winner for me!
You can certainly swap out the vegetables for any other vegetable you desire. I'm thinking some Jersey Fresh asparagus would taste wonderful with this dish. I am just dying for some Jersey Fresh produce. I can't wait to try this with some of the Jersey Fresh produce we grow here on our farm. Summer can't come soon enough!
What I wouldn't do for a Jersey tomato right now. Anyway, I'm getting off-track.
The bottom line is this Lemon Chicken with Fettuccine is a wonderful dish to serve any time during the week. It's simple, yet elegant in presentation. It's pretty hearty too. I love meals that fill you up and this one definitely does just that!
Do you have a signature dish that your family raves about? Leave me a comment below and share your family's favorite.
Enjoy!
Lemon Chicken with Fettuccine
This Lemon Chicken recipe is a simple yet elegant meal your family will love!
Ingredients
4

chicken breasts

2

lemons

1

cup

mushrooms

sliced

1

medium zucchini

sliced

1/2

cup

onion

sliced

1

garlic clove

minced

1/4

teaspoon

red pepper flakes

1

teaspoon

salt

1/2

teaspoon

pepper

2

cups

chicken broth

1/4

cup

fresh parsley

chopped

3

tablespoons

olive oil

8

ounces

fettuccine

cooked
Instructions
In large saute pan, heat oil over medium-high heat.

Wash and clean chicken breast. Pound each between two sheets of wax paper to thin out.

Add chicken to the pan. Season with salt and pepper. Cook until each side is a nice golden brown.

Remove chicken from pan and set aside.

Add the additional oil to the pan and heat over medium heat. Add the red pepper flakes, onions, garlic, mushrooms and zucchini and sauté until just tender.

Add the chicken back into the pan.

Slice one lemon in half and squeeze the juice over the chicken and vegetables.

Slice the other lemon into thin slices and add them to the pan.

Pour chicken broth over everything. Simmer for 5 minutes and reduce heat to low.

Add the pasta and toss to coat.

Garnish with chopped parsley.
Follow Melissa Russo | How Does Your Garden Grow?'s board Food Glorious Food!!! on Pinterest.