Craft your own no-carve Little Mermaid Inspired Ursula Pumpkin for Halloween. This Disney Villian is full of sass and theatrics but she thankfully didn't spoil Ariel's happiness.
This post contains affiliate links.
Hey sweetcakes, I thought I would switch gears on the pumpkin making brigade and throw in one of my favorite Disney Villains – Ursula. I promise that no poor unfortunate souls were harmed in the crafting of this Little Mermaid Inspired Ursula Pumpkin. I love her flamboyance, tenacity, and theatrics. She stopped at nothing to steal Ariel's voice. They weren't kidding when they called her, well, a witch. So, since I shared my Little Mermaid Pumpkin with you recently, it's only fitting that this witch deserves her own pumpkin design too.
Here is what you need to craft your own Little Mermaid Inspired Ursula Pumpkin
Start by painting a craft pumpkin with the purple on two thirds of the top. You can use painters tape or a rubber band to divide the pumpkin. Paint the bottom half black.
Next, you will need to make eight tentacles. Cut 16 pieces of black duct tape about 10 inches long.
Cut a six-inch piece of wire and place in the center of the duct tape. This will help shape Ursula's tentacles. Add another piece of duct tape to the top leaving one inch of the sticky side showing so you can adhere to the pumpkin. Use a craft knife
to cut out the tentacles. You can add a random strip of the purple to the underside if you want.
To make her flamboyant hair, cut triangular pieces of white craft fur. Glue to the top of the pumpkin. Add the silver-tipped white feathers too for some extra flair.
The final step is to paint a shell bead yellow. I added a dab of glue to adhere to the cord. Then, glue the cord to the back of the pumpkin.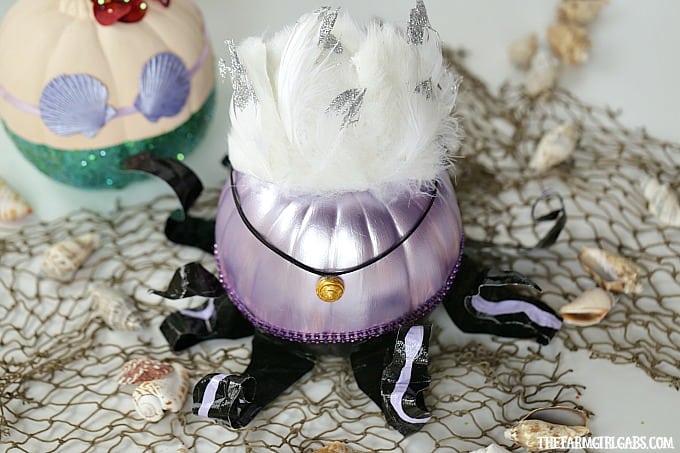 This Little Mermaid
Inspired Ursula Pumpkin has all the sass of the original movie character. Remember, never underestimate the importance of body language.