Are you preparing for the big college move in? Sending a child off to college is a new chapter. It's not always easy but these helpful college move-in tips will make the transition easier for you and your college student. Check out 10 Practical College Packing Tips For A Successful Move-In Day.
This post may contain

affiliate links

. We may receive a commission if you click and purchase something. Please see our disclosure policy for more details. This is sponsored post. All opinions are mine alone.
When we packed Gabrielle up and shipped her off to college in Boston a few years ago, I wanted to make sure she had everything she needed to make her new home away from home as comfortable as possible. I am a planner at heart. Ok, I admit, I am an over planner at heart. I may have gone a little overboard in making sure she had all she needed to the big college send off. Here are some Practical College Packing Tips For A Successful Move-In Day.
Practical College Planning Advice!
College is a big transition for everyone involved. Your son or daughter is most likely doing their first "adult" thing ever – living away from home. As parents, we have to cut those safety nets and let them spread their wings. Which, by the way, is so difficult. Luckily for us, the college transition was easy for Gabby. She loves her college as well as the city of Boston. As a parent, that was my biggest hope – that she would be happy with her choice.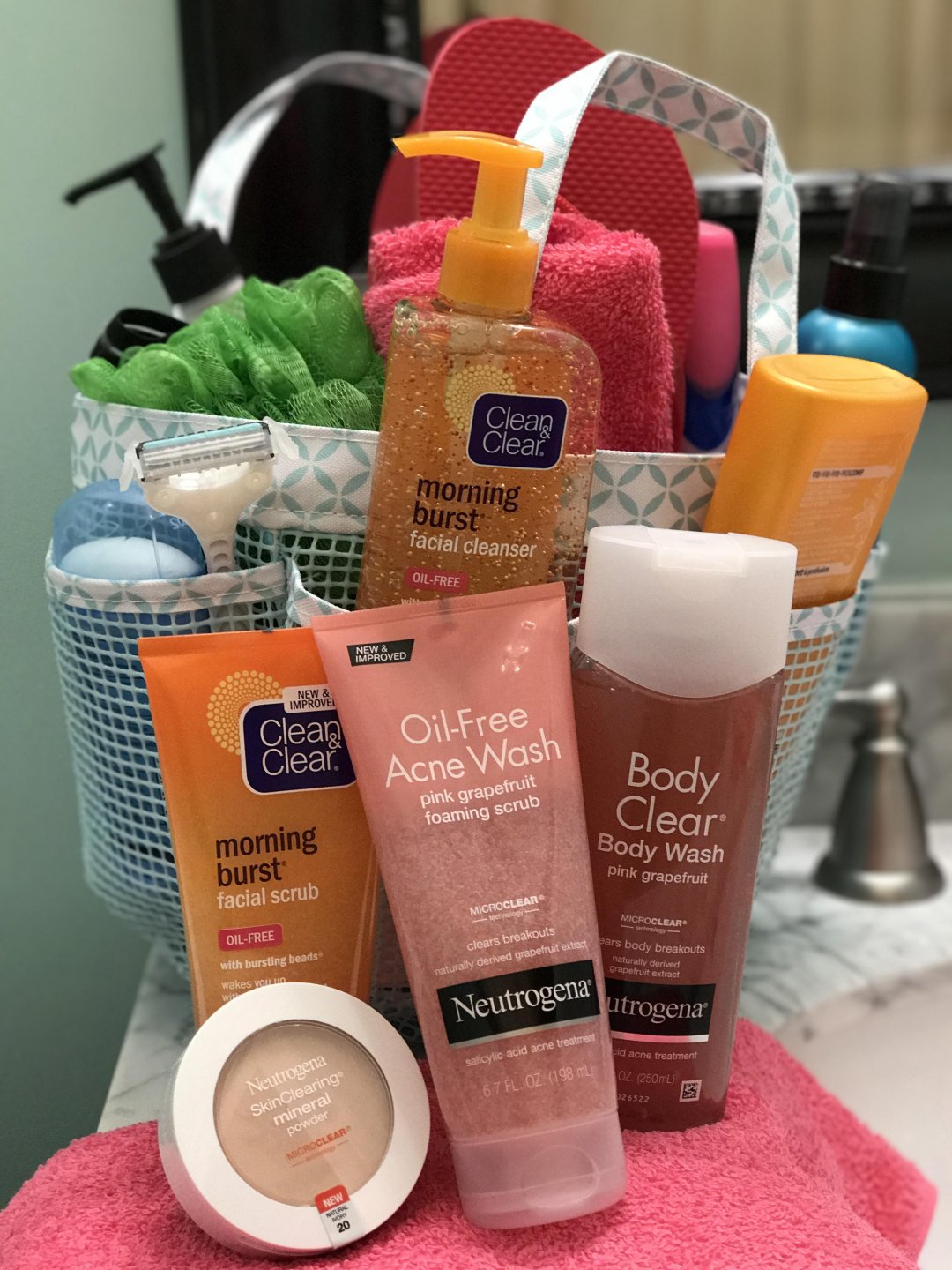 Practical College Packing Tips For A Successful Move-In Day
The stress of college and living away from home can take a toll on our skin. Proper skin care is very important to Gabby. Making the transition from home life to dorm life can be an adjustment but she wanted to make sure she maintained her skin care routine no matter what. Neutrogena® and Clean & Clear® products always help Gabby to feel and look her best.
She uses Neutrogena® Body Clear® Body Wash – Pink Grapefruit each morning in the shower to keep her skin fresh. Gabby has combination skin so for her facial skin care routine, she likes to use either Clean & Clear® MORNING BURST® Facial Cleanser or Neutrogena® Oil-Free Acne Wash Pink Grapefruit Facial Cleanser. Before she heads out the door to class, she applies some Neutrogena® SkinClearing Mineral Powder to give her skin a fresh and balanced look.
So now that we have successfully tackled "college move-in" day once, I thought I would share 10 Practical College Packing Tips For A Successful Move-In Day with you.
Don't forget the essentials. Prepare in advance just to make sure you didn't forget anything on your college packing list. Make sure tags are removed off of everything. Wash the towels and bedding before you leave.
Check the college website for move-in policies and items you are not allowed to bring. We were assigned a specific move-in time so you will need to find out that information too.
Less is More! This one is a tough one for me because I like to overpack. Have your child pack with you and decide exactly what they will need and if they will use it or not.
Pack Wisely – Both vacuum and travel storage bags are a real lifesaver! Pack every nook and cranny too. Utilize every ounce of space in storage bins and suitcases. I even packed some things in the refrigerator. I also love the large reusable shopping bags to carry stuff.
Load the car wisely. Bigger items first. Necessary items to get the room set up started (like a rug, cleaning supplies or tools) should be easily accessible.
Pack in shifts – If you are attending school in an area where there are specific seasons, don't bring your winter clothes right away. Pack late summer and fall clothes and then transition to the winter items at a later time.
Connect and Coordinate with your roommate – This is a great opportunity to discuss what you will be bringing to the dorm room and what your roommate will bring. This avoids any duplication of the larger items like a mini-fridge, microwave or television
Bring a tool kit and wall adhesives to hang artwork – While you most likely will not be able to hammer nails into the walls, a basic toolkit will come in hand, especially if you have to put any furniture together. The wall hanger adhesives work perfectly for hanging stuff in the room.
You most likely will have forgotten something – That's OK. You can always shop if you forgot something essential or ship at a later date.
Breathe. This is an emotional day for the entire family. With a mix of excitement, anxiety and bittersweet sadness, emotions will be running high for everyone. Enjoy the moment and let your child spread their wings and fly.
Save this College Planning post for later. Pin the image below to your favorite Pinterest Board.