The Zen Behind Marie Kondo's KonMari Method
Declutter your life with this free KonMari checklist. It's easy and will take you step by step through the entire KonMari Organization process.
This post may contain affiliate links. We may receive a commission if you click and purchase something. Please see our disclosure policy for more details.
Marie Kondo. Her name needs no explanation. As the queen of decluttering and organizing, her KonMari Method is taking the world by storm, causing ordinary people like you and me to simplify our lives by tossing and purging "things" that don't "Spark Joy." in your life. BIG TIME!
As the new year quickly approaches, it's time to start thinking about a fresh start. I don't know about you but I am ready to say goodbye to this crazy year. Fresh starts have many forms, but for me it always includes getting my house organized.
Marie is a Japanese organization guru and bestselling author of The Life-Changing Magic Of Tidying Up: The Japanese Art Of Decluttering And Organizing
. Have you read it?
I am pretty sure many of us are frantically "tidying up" our homes now that Marie Kondo
's show Tidying Up premiered on Netflix last year. I like to call it Marie Kondo-ing. Marie created a firestorm of giddiness. She is sweet, charismatic and totally relatable. People are folding, organizing and following her tips all by decluttering our lives, ridding ourselves of excess baggage so to say.
Tidiness can be a life-altering experience. Zen-like actually. It's a catharsis that is so freeing. Leaving you feeling…..good. The new year is always a great time to turn a new chapter and incorporate some much-needed tidiness in our lives. Getting rid of things we accumulated over the year with a fresh start is a great way to turn the calendar to a new year.
Good not only because your home and personal possessions are more simplistic but you can help others by donating the items that no longer Spark Joy.
Think of her method as new age minimalism. And it feels pretty darn good.
The KonMari Method is about mindfulness and introspection. It encourages tidying by category – not by location – beginning with clothes, then moving on to books, papers, komono (miscellaneous items), and, finally, sentimental items. Keep only those things that speak to the heart, and discard items that no longer spark joy.
The point of KonMari method is not to have fewer items necessarily but rather to learn to cherish the items that you do have and that you truly love.
The Six Basic Rules of the KonMari Method
RULE 1: Commit yourself to tidying up.
RULE 2: Imagine your ideal lifestyle.
RULE 3: Finish discarding first.
RULE 4: Tidy by category, not by location.
RULE 5: Follow the right order.
RULE 6: Ask yourself if it sparks joy.
So are you ready to do this? Let's commit! Spark some joy and start decluttering! You can download this free printable KonMari Checklist to help you get started.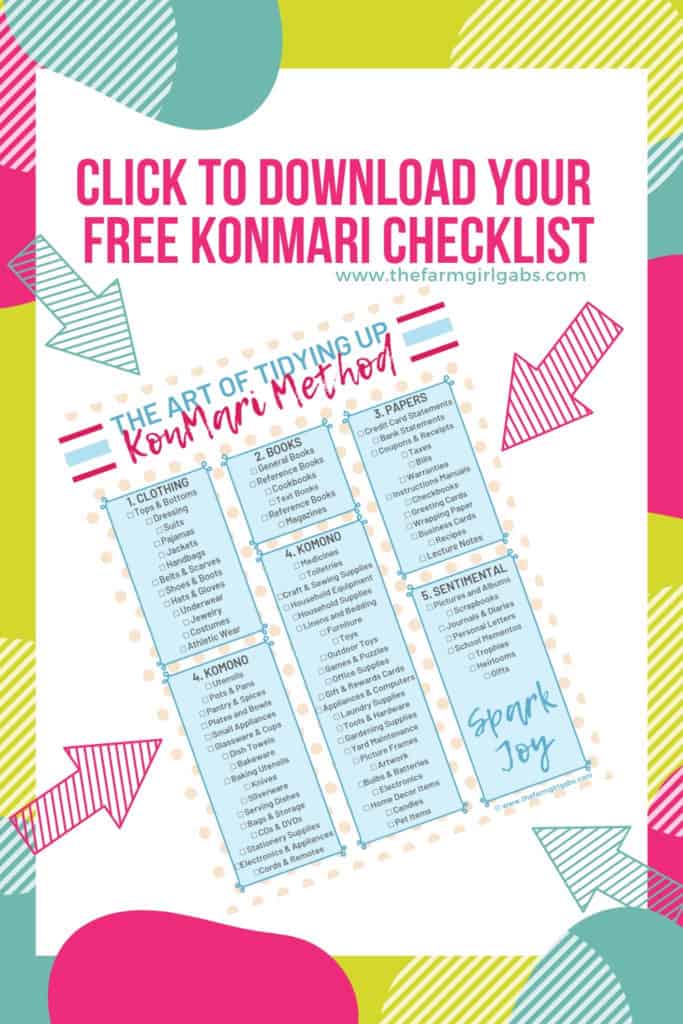 "The space in which we live should be for the person we are becoming now, not for the person we were in the past." ~Marie Kondo
More Organizing Tips
Organization Tips For College Students
5 Things To Organize In The New Year
Save this home organization post for later. Pin the image below to your favorite Pinterest board.