My family proclaimed these the BEST Ever Apple Crumb Muffins. This recipe is filled with lots of sweet apples and topped with a buttery cinnamon and brown sugar topping.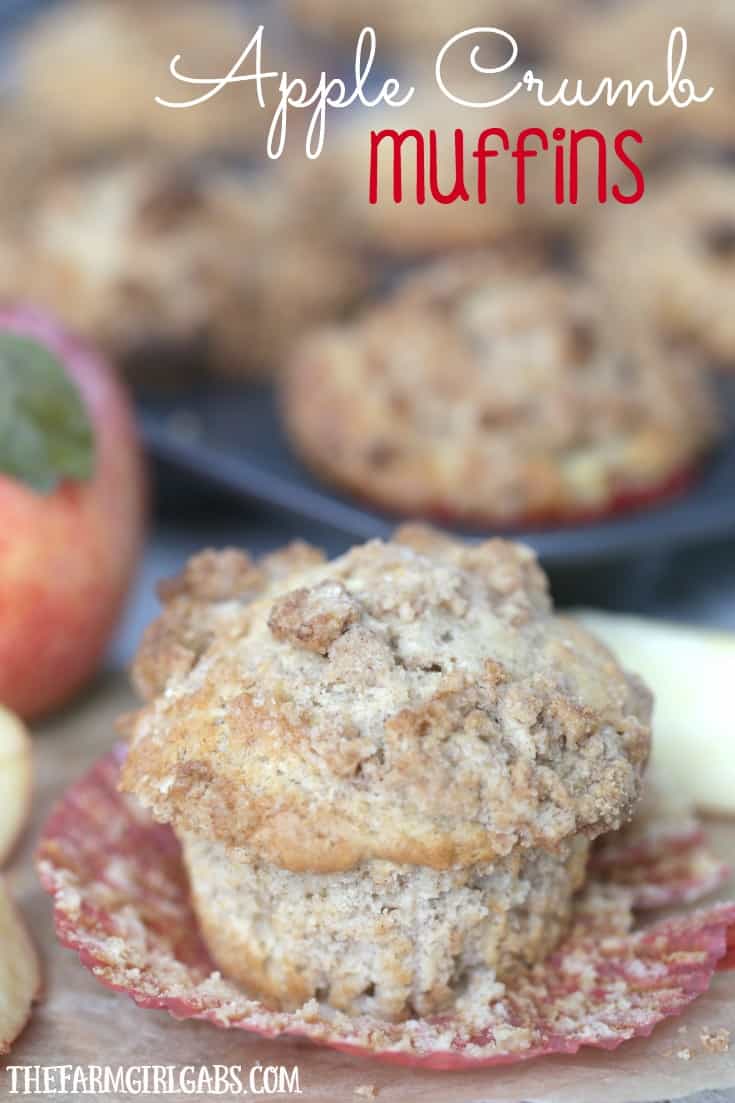 I can never get enough apple recipes. Once apple season starts on our farm, I find myself baking up a storm with the Jersey Fresh apples we grow here. I know I don't have to go into the details about how great they are to cook or bake with, but I will. Apples are perfect for snacking, cooking and baking. We grow about 20 acres of apples here on our farm. In fact, my house is surrounded by apple trees. Not going to lie, I am a little spoiled. It's quite a blessing to walk out the front or back door to pick a few apples off the tree.
These The Best Ever Apple Crumb Muffins really are the BEST Ever! I promise….
I like to use sweet apples in these Apple Crumb Muffins. When baking with apples, it is always a good idea to mix varieties of apples. I think this adds a depth of flavor to the recipe. For this recipe, I used Cameo and Fuji apples. I tend to always bake with a sweeter apple. I'm a proud member of the "sweet apple camp". If you are a member of the "tart apple camp", then try a Winesap or granny smith.
Can I just tell you how much I love a crumb, or streusel, topping. I mixed
some butter, flour, brown sugar and cinnamon
together to form a buttery cinnamon goodness. I seriously wanted to just eat the whole thing before I topped the muffins with it. That would defeat the purpose of these Apple Crumb Muffins though. Be sure to add a generous amount to the top of each muffin.
Since these are loaded with lots of sweet apples, you are guaranteed to enjoy a nice piece of apple with every delicious bite. My family declared these the best apple crumb muffins they have ever had. Apple Crumb Muffins are not just for the fall season. I make them all year-long. They make a perfect breakfast or snack too.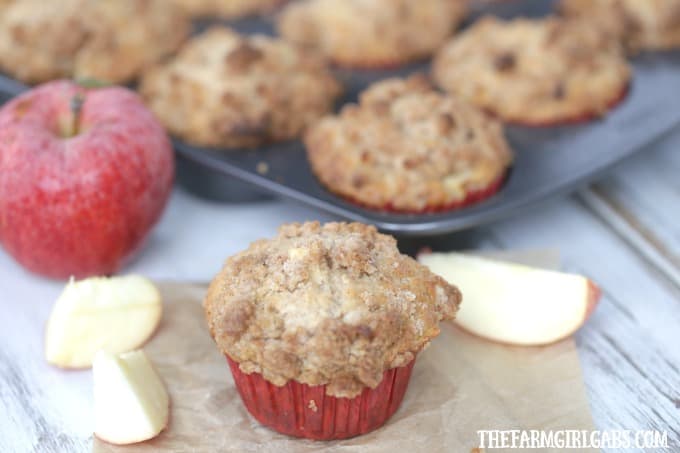 This video gives you a sneak peek about how we pick apples at Russo's.
Looking for more apple recipes? Try one of these from the blog!
Apple Crumb Muffins
This is the BEST Apple Crumb Muffin recipe around. These muffins are loaded with sweet apples and topped with a buttery brown sugar crumb mixture.
Author:
Melissa Russo / thefarmgirlgabs.com
Ingredients
2 cups sifted flour
½ cup sugar
3 teaspoons baking powder
¼ teaspoon salt
2 teaspoons cinnamon
1½ cups finely chopped apples
1 egg, beaten
1 cup milk
¼ cup melted butter
2 teaspoons pure vanilla
Crumb Topping:

⅓ cup brown sugar
⅔ cup flour
1 tablespoon sugar
1 teaspoon cinnamon
⅓ cup melted butter
⅓ cup chopped walnuts (optional)
½ teaspoon cinnamon
Instructions
Preheat oven to 400 degrees.
Line muffin pan with cupcake liners and set aside.
Sift dry ingredients in a large bowl. Stir in diced apples.
In a medium bowl, combine liquid ingredients.
Add liquid ingredients to dry and stir just to incorporate.
Fill muffin tins halfway.
In a medium bowl, mix the topping ingredients together. Mix until crumbly.
Top each muffin with a generous portion of the topping.
Bake for 20 minutes.