Harry Potter fans can rejoice over this recipe for Hot Butterbeer. It's Harry Potter's favorite cozy and comforting drink that is loaded with flavor.
This post may contain affiliate links. We may receive a small commission if you click and purchase something. Please see our disclosure policy for more details.
How To Make Hot Butterbeer
Have you ever wanted to know what hot butterbeer tastes like? If you're a fan of the Harry Potter series, this is likely something you've had on your mind for ages. Maybe you have had the cold version while visiting Harry Potter World at Universal Studios.
Now you can make it at home. With this recipe, you will now have the opportunity to indulge, creating a comforting drink that will leave you satisfied. In fact, this copycat butterbeer recipe is the perfect beverage to share with family and friends when hosting parties or holiday gatherings. Everyone will be asking you for the recipe within seconds of taking their first sip.
The Butterbeer Hype
The flavor of this beverage is amazing. It's like nothing you've ever tasted before. If you're looking for something sweet, tasty, and enjoyable this holiday season, try this recipe because it's worth it!
It doesn't take much time or effort to prepare the butterbeer. When you want something special that you can make with ease and without a ton of ingredients, this is a great choice.
Butterbeer is alcohol-free, so your children can enjoy this just as much as you will!
What Is Butterbeer Made of?: Ingredients for Hot Butterbeer
Before you can prepare and serve this deliciously sweet treat, be sure to grab the following ingredients:
Unsalted Butter – Any brand of unsalted butter will do!
Light Brown Sugar – Use this sweet sugar to add a touch of sweetness to the beverage that makes it taste even better.
Whole Milk – You will need to use around two cups of whole milk for this recipe.
Butterscotch Instant Pudding – You can grab the Jell-O brand or any other brand, but make sure it's instant pudding.
Vanilla – A touch of vanilla adds an incredible taste to this comforting beverage.
Cream Soda – Don't forget the cream soda. It pairs perfectly with the brown sugar and butterscotch flavoring.
With these ingredients, you can prepare a Harry Potter-inspired drink that everyone will look forward to sipping.
Can I use almond milk instead of whole milk?
I wouldn't suggest using almond milk because it will alter the taste and texture of the pudding, which can change the taste of this delicious Hot Butterbeer. If you have an intolerance, Lactaid whole milk is an excellent alternative.
Will I need special equipment for this recipe?
You will need a pot with a heavy bottom, such as a crock pot, and a whisk with measuring cups or measuring spoons. You won't need a lot of special equipment to assemble this tasty drink.
Can I add anything extra to this beverage?
Definitely. If you want to make it even tastier while adding to its appearance, top it with a dollop or two of whipped cream and then drizzle butterscotch syrup on top. If you don't have butterscotch syrup, you can always use caramel, which will pair well with this beverage!
Get ready to make the most impressive drink at home with a few ingredients using this Hot Butterbeer recipe. It's truly delicious and easy enough to make as often as you'd like!
More Easy Drink Recipes
Kitchen Essentials Needed To Make This Easy Drink Recipe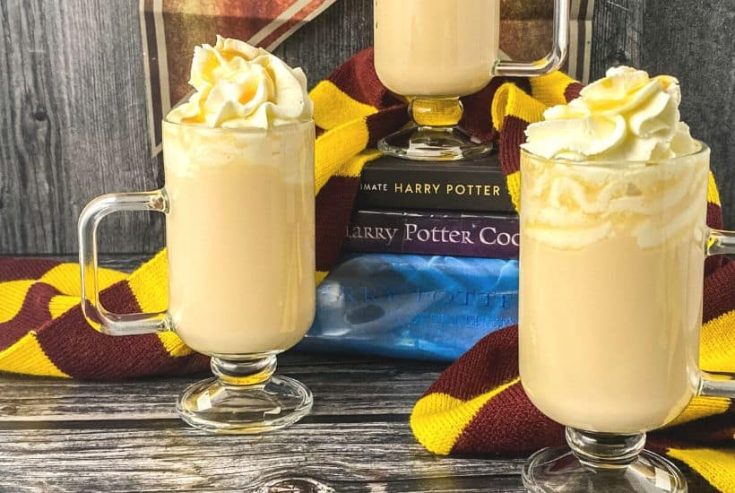 Yield:

4
Butterbeer on Weathered Wood
Harry Potter fans can rejoice over this recipe for Hot Butterbeer. It's Harry Potter's favorite cozy and comforting drink that is loaded with flavor. You may have had butterbeer while visiting Universal Studios but now you can make it at home. This copycat butterbeer recipe is the perfect beverage for Harry Potter fans.
Ingredients
2 tablespoons unsalted butter
2 tablespoons light brown sugar
2 cups whole milk
1 3.4 oz box Butterscotch Instant Pudding
1 teaspoon vanilla
1 cup cream soda
Instructions
Combine milk, butter, and brown sugar in a medium-large pot.
Heat over stove top until fully dissolved, whisking often.
Add in the butterscotch instant pudding mix and vanilla and whisk until combined.
Remove from heat and whisk in 2 cups of cream soda.
Return to stove top to heat if serving now or pour into a heated crockpot to keep at a warmed temperature.
Add whipped cream and a drizzle of butterscotch syrup when serving.


Notes
Equipment Needed
Heavy Bottom Pot or Crock pot
Whisk
Measuring Cups/Spoon