Cheeseburger Party Sliders
It's not a game day party without food. These Cheeseburger Party Sliders are the perfect game day recipe. Score a touchdown with this recipe. This recipe is a fast and EASY party FAVORITE!!
This post may contain affiliate links. We may receive a commission if you click and purchase something. Please see our disclosure policy for more details.
This post was sponsored by McCormick as part of an Influencer Activation and all opinions expressed in my post are my own.
I love a reason to party and football is definitely a perfect one. Touchdowns and extra points are not only scored on the field you know! The food is just as important as the game itself. Fun times call for fun food. That's why I am sharing this delicious Cheeseburger Party Sliders recipe from French's®. It is the perfect game day recipe for your ultimate homegate party.
Food has a way of bringing people together. That includes football fans too. Planning the ultimate football celebration doesn't have to be complicated. I always like to prepare as much in advance and keep the menu simple.
What Do I Need To Make This Cheeseburger Sliders Recipe?
How Do I Make These Cheeseburger Party Sliders?
Who doesn't love a good cheeseburger, especially on game day? My family loves this quick and easy sliders recipe. It's a perfect weeknight meal too. Quick and easy recipes are what makes game day fun by spending less time in the kitchen and more time on the couch cheering.
You simply layer the slider buns, with the cooked hamburger mixture, cheese and crispy fried onions.
Then, spread some tangy French's® Classic Yellow Mustard on each bun for the perfect finish.
Bake until the cheese is melted. Oh my! The melted cheese, hamburger, French's® Classic Yellow Mustard and crispy fried onions are the PERFECT combination for a winning homegate recipe!
Kitchen Essentials Needed to Make Sliders
Here are a few other homegate recipes to add to your ultimate football party menu:
Slow Cooker French Dip Sandwiches
You can more easy slider recipes on my site by clicking here.
Save this Cheeseburger Sliders Recipe for your next homegate party. Pin the image below to your favorite Pinterest Board.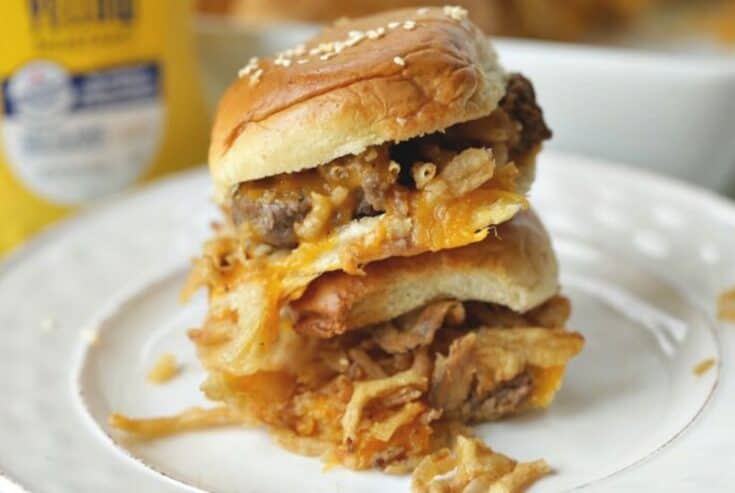 Yield:

12 Sliders
Cheeseburger Party Sliders
It's not a game day party without food. These Cheeseburger Party Sliders are the perfect game day recipe. Score a touchdown with friends and family with this recipe.
Ingredients
1 pound lean ground beef
1 teaspoon McCormick® Garlic Powder
1/2 teaspoon McCormick® Coarse Ground Black Pepper
1/2 teaspoon salt
1 tablespoon vegetable oil
12 slider rolls
1/4 cup French's Classic Yellow Mustard
8 slices Cheddar cheese
2 cups French's Crispy Fried Onions Original
2 tablespoon butter
1 tablespoon McCormick® Sesame Seeds
Instructions
PREHEAT oven to 350°F. Mix ground beef, garlic powder, pepper and salt in a medium bowl. Shape into a large patty.
HEAT oil in large skillet on medium-high heat until shimmering. Add beef patty; cook 2 to 3 minutes on each side, or until seared. Using a spatula or wooden spoon, roughly chop the patty into pieces. Cook 3 to 4 minutes or until beef is cooked through. Drain fat and keep warm.
PLACE bottom halves of slider rolls in bottom of a 13x9-inch baking dish. Top with cooked beef and layer with cheese slices. Top with Crispy Fried Onions. Spread cut side of tops of rolls with Mustard and place on top of the Fried Onion layer.
BRUSH butter over tops of roll and sprinkle with sesame seeds. Bake 15 to 20 minutes or until heated through and cheese is melted.