Football Charcuterie Board
Host your family and friends over for the big game and serve this tasty and fun Football Charcuterie. It's easy to assemble, contains lots of flavorful ingredients, and will be a huge crowd pleaser at your Super Bowl party.
This post may contain affiliate links. We may receive a small commission if you click and purchase something. Please see our disclosure policy for more details.
Easy Football Charcuterie Board
Football season is here! Can I get a high five? Are you a football lover? If so, you're likely looking forward to watching all the big games at home with your loved ones, where you can spend quality time and watch something that keeps you on the edge of your seat.
Instead of worrying about what to serve to anyone who decides to stop at your place for the big gam, prepare this fun and flavorful Football Charcuterie Board! It contains tons of delicious snacks and looks adorable, pairing perfectly with the sports aesthetic that you may wish to create.
Whether your team is in it to win it or not, there is always time for food. I love football food and this is an easy appetizer idea for your next game-day party. When you are in for a long day of football, a game day board filled with plenty of delicious finger foods is a fun way to celebrate.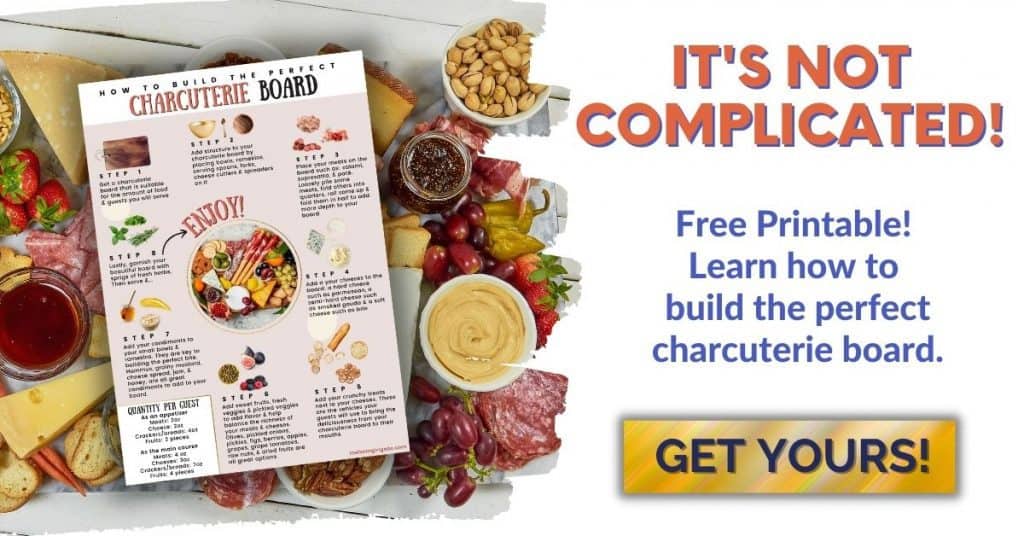 Must-Have Ingredients for the Football Charcuterie
This is a fun way to cheer on your favorite football team. If you plan to make this simple and fun Football Charcuterie, you will need the following ingredients to assemble it:
Cream Cheese – Grab two 8-ounce packages of cream cheese and allow it to soften to create your football cheese ball.
Sour Cream – You will need two tablespoons of sour cream. You can use any brand for this recipe.
Colby Jack Cheese – Shred your cheese or buy it pre-shredded, whatever works best for you.
Cajun Spice – Add more flavor to your cheese ball with a bit of cajun spice.
Diced Jalapenos – Give your cheeseball a slight kick with the addition of diced jalapenos, which add both flavor and texture.
Chopped Bacon – Use the crispy bacon as a topping to your cheese ball, which has the perfect crunch.
Smoked Cajun Sausage – Use cajun sausage to pair with your cheese ball.
Pepperoni Wrapped Mozzarella – Wrap your mozzarella and pepperoni together and place it on your charcuterie board. You can also use an assortment of different deli meats too.
Baby Tomatoes – Of course, you will want to add some vegetables to this charcuterie, such as baby tomatoes.
Dips – Think ranch dip, onion dip or any type of dip that suits your fancy
These are just a few ingredients needed to prepare the Football Charcuterie. You will also need ingredients like smoked turkey sausage, baby carrots, sliced bell peppers, Ritz crackers, roasted peanuts, and a favorite dip or two.
What type of bacon should I use for the Football Dip?
Why not make a dip in the shape of a football? This is a fun idea to take your football party to the next level. You can use any brand and flavor of bacon that you personally prefer to make the football-shaed cheese ball. The key is to get the bacon nice and crispy to add a bit of a crunch to your cheese ball.
Can I add a few different ingredients to this Super Bowl charcuterie board?
Of course! Add your favorite veggies, favorite snacks, and even sweet treats to this festive football board. Tailor this snack board to the snacks you like to eat.
How soon in advance can I prepare this charcuterie?
You can prepare the Football Charcuterie a few hours in advance because the cheese ball will need to sit in the fridge for a minimum of four hours. In fact, you can prepare this in advance the day before so that it's ready to go by the time the football game comes on!
Cheer on your favorite team with this game day charcuterie board! It's easy to make and incredibly delicious. Definitely add this to your list of favorite game day foods.
Kitchen Essentials Needed To Make A Charcuterie Board
More Easy Charcuterie Board Ideas
Check out these themed charcuterie board ideas
Yield:

10 Servings
Football Charcuterie
Host your family and friends over for the big game and serve this tasty and fun Football Charcuterie. It's easy to assemble, contains lots of flavorful ingredients, and will be a huge hit at your Super Bowl party.
Ingredients
Football Cheese Ball
16 ounces cream cheese (2 8-ounce blocks), softened
2 tbsp sour cream
2 cups colby jack cheese shredded
1 tbsp cajun spice
1 tsp cumin
1 tsp chili spice
1 tbsp garlic salt
1 tsp crushed red peppers
1/4 cup green onions chopped
1/2 cup bacon chopped
1⁄4 cup diced jalapenos
1 tsp hot sauce
Coating:
1 cup chopped bacon
Meats:
Smoked Cajun Sausage
Smoked Turkey sausage
Pepperoni wrapped mozzarella
Salami wrapped mozzarella
Cheese
6-8 Cheddar Cheese, sliced
6-8 Colby Jack Cheese, sliced
6-8 Pepper Jack Cheese, sliced
6-8 Swiss, sliced
Vegetables
1 cup Baby Tomatoes
2 cups Baby carrots
4-5 Bell peppers sliced
3 Jalapenos sliced
Olives
1⁄2 cup Kalamata Olives
Jams and dips
1⁄4 cup Pepper Jelly
1⁄2 cup Cheese dip
1⁄2 cup Spicy aioli
Crackers and other
1 cup Ritz crackers
2 cups Pretzel bites
1 cup Seasoned pretzel sticks
1⁄2 cup Roasted peanuts
1⁄2 cup Fried jalapenos
Instructions
Football Cheese Ball: Using a hand mixer and a large mixing bowl, combine together cream cheese, sour cream, and spices.
Add the bacon, jalapenos, green onions, and colby jack cheese tot he cream cheese mixture.
Use a spatula to mix to combine. Refrigerate for 1 hour.
Spray your hands with nonstick baking spray and mold the cheese mixture into a football shape.
Lay out a piece of plastic wrap and place the cheese ball on top.
Wrap the cheeseball with the plastic wrap tightly so it can hold its shape.
Refrigerate for 4 hours.
Unwrap the cheese ball and carefully roll it in the chopped bacon.
Gently press the toppings into the sides, if needed.
Pipe sour cream to create the laces on the football cheese ball.
To Assemble The Charcuterie Board: Place the football cheese ball in the center of your board. Set to the side.
Add the ramekins for the jam and dips on the board.
Place all of your meats on the board in various spots.
Now add the cheese slices to the board.
Begin to add the remaining ingredients and make sure to fill in the empty spots on the board. Refrigerate until serving.