Tell your Valentine they are all right (or is it write?) with these adorable Cupid's Arrow Printable Pencil Valentines.
This post may contain affiliate links. We may receive a commission if you click and purchase something. Please see our disclosure policy for more details.
My favorite part of Valentine's Day when the kids were young was creating fun Valentines that they could hand out to their friends and classmates. I really do miss those days. But, that doesn't mean I can't share some fun Valentine's Day card ideas with you.
Cupid made a surprise visit the other day and left these adorable Cupid's Arrow Printable Pencil Valentines behind.
One can never have enough pencils. Write on! My son, AJ was always the one who would always lose his or he would sharpen them down to the nub and then try to write. I always kept a supply though. And I even stocked up on the cool holiday pencil designs too.
Handing out these Pencil Valentines is the write way (see what I did there) to make sure your friends and classmates always have an extra pencil.
What Do You Need to Make A Bunch of these Printable Pencil Valentines?
Valentine Hearts Printable (Grab your copy here)
Valentine Pencils
Hole Punch
Two-Sided Tape
Printer
So why not give some to your friends. Here is how to make your own Printable Pencil Valentines.
Step 1: Download and Print out the Valentine Hearts Printable. DOWNLOAD HERE!
Step 2: Cut out each heart with scissors.
Step 3: Punch a hole on each end of the heart and thread a pencil through each.
Step 4: Use two-sided tape to attach the arrow and feather to each end of the pencil.
Tell your friends and classmates they are all write! Share one of these fun Valentines this Valentine's Day. They are so easy to make and pretty useful too.
Save this Printable Pencil Valentine's project for later. Pin the image below to your favorite Pinterest Board.
More Valentine's Day Fun!
I Only Have Eyes For Your Valentine Cards
Baby Yoda Printable Valentines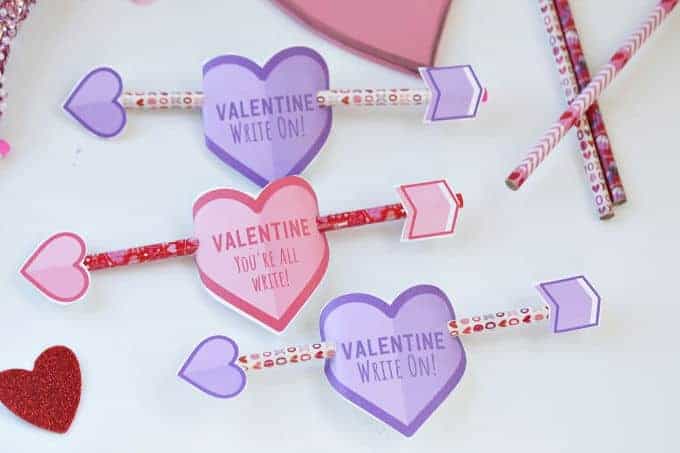 Yield:

4 per page
Printable Pencil Valentines
Tell your Valentines they are all right (or is it write?) with these adorable Cupid's Arrow Printable Pencil Valentines.
Instructions
First you will need to download and print out the Pencil Valentines template (see above). Cut out each of the shapes. Have your kids address them before attaching them to the pencils.
Use a hole punch to make a hole on each side of the large heart. Thread the heart through the pencil.
Use the tape runner to adhere some tape to the back of the small heart and arrow end. Attach them to each end of the pencil.