Are you a tomato lover? This delicious Summer Tomato Pie recipe is perfect for brunch, lunch or dinner. It's a great way to use all those ripe tomatoes from your garden. 
Chances are if you live in the great state of New Jersey, or have visited in the past, you are well aware that our Jersey Tomatoes will knock you socks off. Plump, juicy and red through and through….yep they are THAT good! There is nothing like a Jersey Tomato. Until you have tried one for yourself, you don't know what you're missing. Just look at the beautiful red color!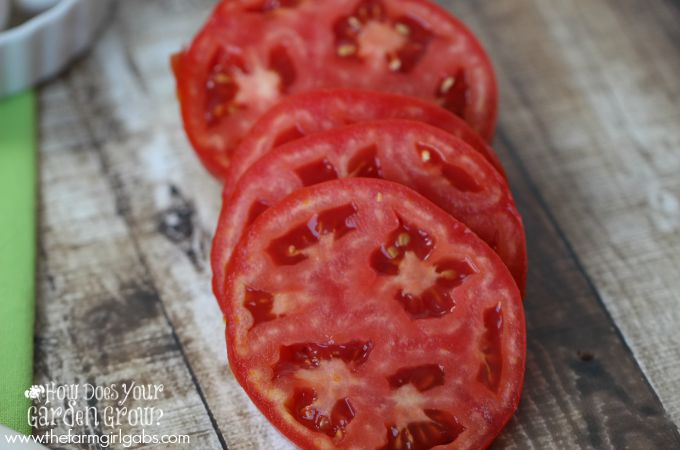 Although the summer is almost in the books, the delicious Jersey Fresh tomatoes that we grow at Russo's will continue well into the fall. My husband eats them like apples…..yes, LIKE APPLES. Needless to say, we eat a lot of tomatoes and we surely miss them when they are gone. This Summer Tomato Pie is just one of the ways I like to incorporate Jersey Tomatoes into our meals. This quiche-like pie is perfect for brunch or dinner. It's equally delicious hot or cold too.
The basic recipe for the filling is from the Joy of Cooking by Irma S. Rombauer, Marion Rombauer Becker & Ethan Becker
. I adapted the recipe to add plenty of farm fresh Jersey Tomatoes, cheese and onions.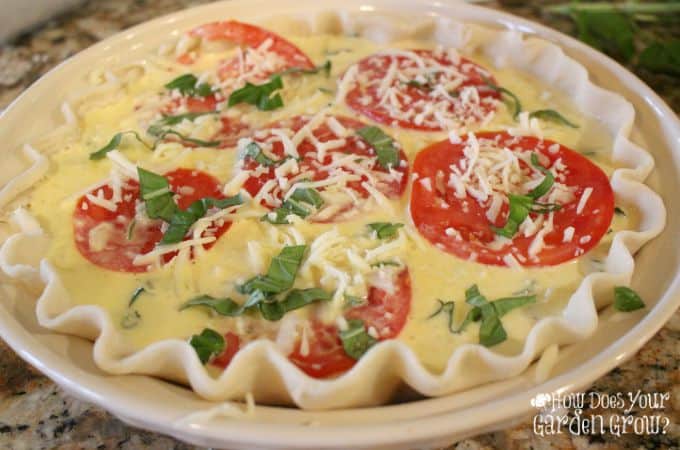 This recipe, like most quiches, is so easy to make. You can either make your own pie shell, or use a store-bought pie shell (trust me – NO ONE WILL CARE!). Slice up those beautiful tomatoes that you just picked from your garden or bought at your local farmers market. Whip up a simple egg mixture and then assemble by adding the tomatoes, some cheese and pouring the eggs over top. You can also top off with some extra tomato slices like I did. I wanted to make sure there was plenty of tomato goodness in this pie!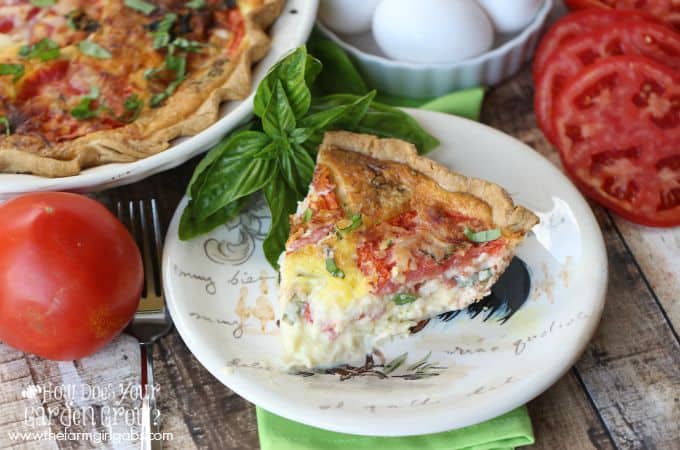 …..A good this Summer Tomato Pie was. It didn't last long in our house. This recipe is perfect to serve for brunch, lunch or dinner. You can even bake it ahead of time and heat up in the oven before serving.
Tomatoes are in abundance right now, so hit up your local farm market or grab some out of your garden and try this savory tomato pie. It's a perfect recipe for the tomato lover in all of us.

Summer Tomato Pie
Are you a tomato lover? This delicious Summer Tomato Pie recipe is perfect for brunch, lunch or dinner. It's a great way to use all those tomatoes from your garden. #JerseyFresh
Author:
Melissa Russo / thefarmgirlgabs.com
Ingredients
1 - 10 inch pie crust, unbaked
2 Ripe Jersey Fresh tomatoes, sliced
½ cup onion, finely diced
½ cup fresh basil, chopped
1 cup swiss cheese
1 cup cheddar cheese
4 eggs, beaten
1½ cup light cream
½ teaspoon Kosher salt
½ teaspoon black pepper
Instructions
Pre-heat oven to 375 degrees.
Slice tomatoes. Chop onions and basil
Layer the bottom of a 10-inch unbaked pie shell with cheeses.
Top cheese layer with tomatoes, onions and basil
In mixing bowl, beat eggs and light cream together. Season with salt, pepper and nutmeg.
Gradually pour over pie shell.
Bake at 375 degrees for 45-50 minutes of until top is golden brown and firm.
This post contains affiliate links. Please see my disclosure policy for details.