Garden fresh Tomatoes, corn and basil pair up to form the perfect trio in this delicious Tomato Corn And Basil Salad!
While fall may be knocking at the door, there is still plenty of time to enjoy the delicious flavors of summer. Fall on our farm is beyond hectic. While we are harvesting all those wonderful fall vegetables such as pumpkins, apples, broccoli and winter squashes we also still have an abundance of delicious tomatoes and sweet corn growing in our fields.
As much as I love fall, I deeply miss the Jersey Fresh tomatoes and sweet corn we grow when the cooler weather digs in. I guess I am a little spoiled. So spoiled that I can literally walk out my back door to the tomato field. I DREAD buying vegetables at the grocery store during the winter months. So for now, I am enjoying every bite of farm fresh goodness I can, starting with this quick and easy Tomato Corn and Basil Salad.
This salad starts with the ever popular Jersey Tomato. My husband eats them like apples (crazy, I know). You have heard me brag about them before. There is nothing like a Jersey tomato. Ok, so I am a little bias. We happen to grow a lot of them here on our farm. But, I am 100 percent positive that this recipe will taste just as great with a tomato from your garden or local farmers' market. As you probably already know, tomatoes and basil are the perfect duo. They were made for each other. Add some corn into the mix and create a delicious salad recipe that is perfect for any occasion. I can't forget to mention that I also added a nice amount of fresh mozzarella to round out this salad's flavor. Again, tomatoes and mozzarella….need I say more! Toss it all together with a simple dressing and you have yourself one delicious crowd-pleaser!
Just because we flipped the calendar to September doesn't mean we have to stop enjoying all the great summer produce. Take advantage of summer's bounty before the frost sets in.
Enjoy!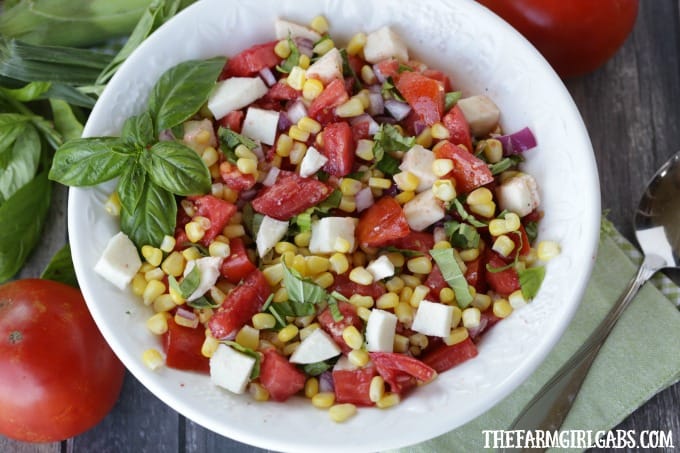 Tomato Corn And Basil Salad
Garden fresh Tomatoes, corn and basil pair up to form the perfect trio in this delicious Tomato Corn And Basil Salad!
Author:
Melissa Russo / thefarmgirlgabs.com
Ingredients
2 cups Jersey Fresh Corn or 2 cups frozen
3 large tomatoes, diced
¾ cup basil leaves, chopped
½ cup red onion, diced
1 cup fresh mozzarella, cubed
2 garlic cloves, minced
⅓ cup olive oil
¼ white wine vinegar
Salt & Pepper to taste
Instructions
In a large bowl, add the tomatoes, corn, red onion and garlic. Gently mix in the cubed mozzarella and fresh basil.
In a small bowl, whisk the olive oil and vinegar together to make the dressing.
Pour dressing over salad and gently toss.
Grab you copy of Melissa's Cookbook on Amazon today!