Make a delicious main dish entree with this recipe for Garlic Chicken Thighs. They're juicy, tender, and full of flavor, making them the perfect meat to serve with your favorite side dishes.
This post may contain affiliate links. We may receive a small commission if you click and purchase something. Please see our disclosure policy for more details.
Make Delicious Garlic Chicken Thighs
Are you looking for new ways to prepare different meats that you'd normally serve, such as chicken thighs? If you want to take your thighs to the next level, be sure to try this easy and delicious recipe for Garlic Chicken Thighs. The flavor of the dish will blow you away. This is an easy weeknight meal idea.
Prepared with simple ingredients, these Garlic Chicken Thighs pair well with many sides, including baked macaroni and cheese, mashed potatoes, and even your favorite type of pasta!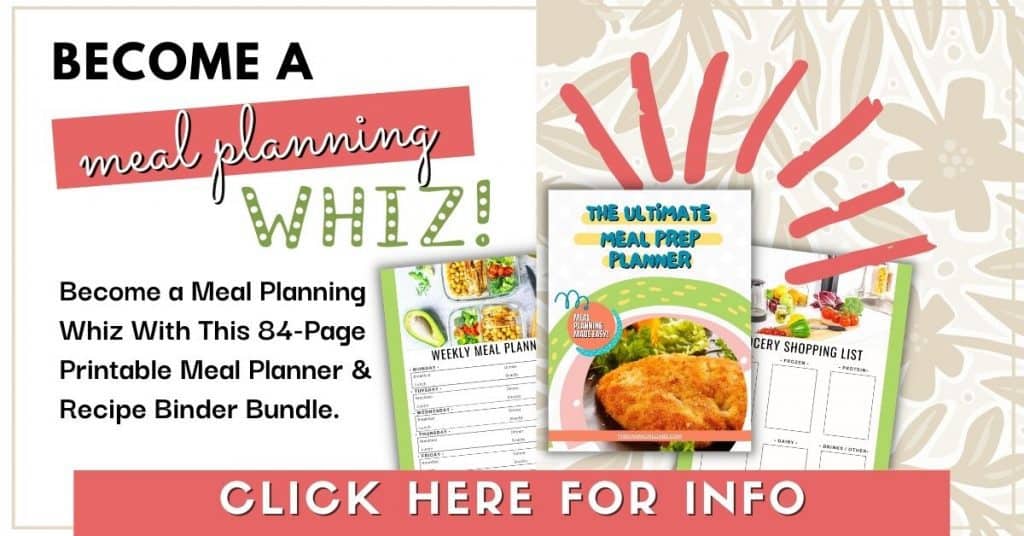 Reason to Make the Garlic Chicken Thighs
You won't need a lot of ingredients to make theses Garlic Chicken Thighs. Instead, you'll only need several simple ingredients, such as minced garlic gloves and Italian seasoning.
It won't take too long to make the Garlic Chicken Thighs. So, even if you're pressed for time, you can prepare the chicken with ease.
These thighs are an excellent entree to pair with all kinds of side dishes, including potatoes, veggies, and pasta.
What You'll Need to Prepare the Garlic Chicken Thighs
When preparing the Garlic Chicken Thighs, there are a few ingredients you'll need to have, such as:
Butter. Adding a bit of butter to the thighs gives them more flavor and keeps them moist!
Chicken Thighs. You'll need at least four but up to six thighs. We used the bone-in options with skin attached.
Garlic Cloves. Mince your garlic cloves into small pieces before adding them to your thighs.
Italian Seasoning. The Italian seasoning adds the perfect hint of flavor to the tasty chicken.
Besides these ingredients, you'll only need a bit of salt and pepper.
Do I have to pre-cook the chicken before putting it in the oven?
Yes, be sure to place the thighs in a skillet on the stove with butter and cook for four minutes per side before adding the minced garlic to your thighs and baking them in the oven.
How long will I need to bake the chicken in the oven?
Be sure to bake the chicken for a minimum of 10 minutes and up to 15 minutes. Check the internal temperature of your chicken and make sure it reaches 165 degrees F before you remove it from the oven to ensure that it's fully cooked and ready to eat.
How can I store the leftovers?
Store any leftovers in an airtight container and place the leftovers in the fridge. You can keep your chicken thighs in the fridge for up to three days, reheating them in the skillet when you want to have another warm, fresh, and delicious meal.
Recipe Tips and Notes
If you don't like chicken on the bone, you can prepare this recipe with boneless chicken thighs.
While fresh garlic is best, you can use jarred minced garlic as a substitute for it.
You can serve these thighs with anything you'd like to eat as a side dish! They go with so many great foods.
Try These Easy Weeknight Meal Recipes
Slow Cooker French Dip Sandwiches
Creamy Tortellini Alfredo Skillet
Enjoy the wholesome and flavorful taste of Garlic Chicken Thighs. You can prepare them with ease using ingredients you probably already have at home.
Yield:

4 Servings
Garlic Chicken Thighs
Garlic Chicken Thighs is an easy main dish meal the whole family will enjoy. They're juicy, tender, and full of flavor, making them the perfect meat to serve with your favorite side dishes.
Ingredients
2-3 Tablespoons Butter
4-6 Chicken Thighs, bone-in and skin-on is what we used
1 teaspoon Italian Seasoning
1 teaspoon Salt
1 teaspoon Pepper
3 Garlic Cloves, minced
Instructions
Preheat oven to 375F.
Place butter in a skillet over medium heat.
Pat chicken dry with paper towel and seasoning with Italian seasoning, salt and pepper.
Place chicken in skillet and brown on each side, about 4 minutes per side.
Divide garlic over the chicken thighs, then place in oven and bake until chicken reaches an internal temperature of 165F, about 10-15 minutes.