How To Throw A Graduation Party At Home
Planning a backyard graduation party? Whether it is a small gathering with close friends and family or a large bash, follow these tips and tricks for How To Throw A Graduation Party At Home without breaking the budget.
This post may contain affiliate links. We may receive a commission if you click and purchase something. Please see our disclosure policy for more details.
As graduation party season quickly approaches, you may be starting to consider how you are going to throw your college graduate or high school graduate a party. Throwing a graduation party can be a little stressful, but it's a fun way to celebrate your grad. A great way to save money is to have a backyard graduation party at your home. Your own home provides a perfect setting for an outdoor grad party.
Your backyard can be a great outdoor party spot with a little extra work, and your guests won't feel too crowded. Here are tips on how to throw an epic graduation party at home.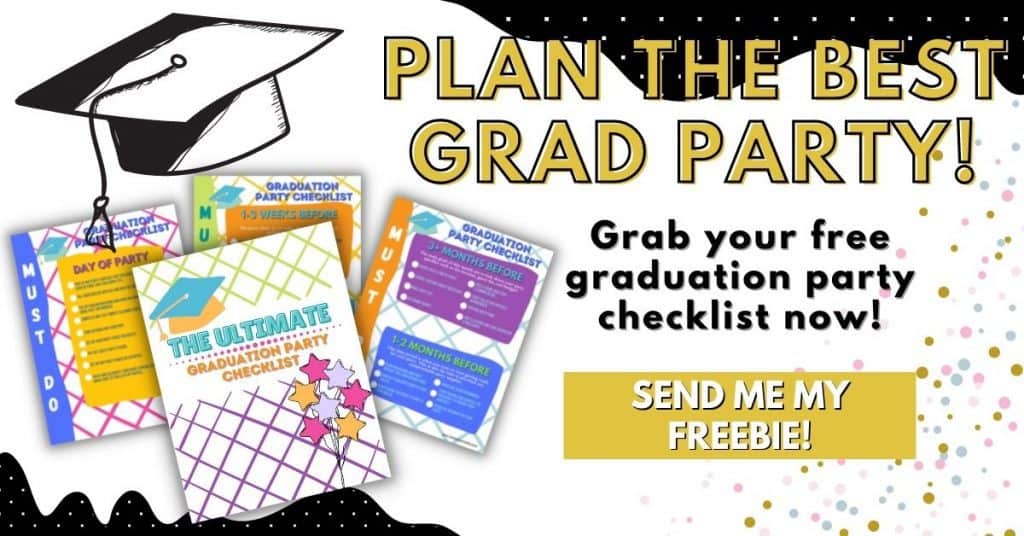 Backyard Graduation Party Ideas & Tips
Set Your Party Budget
Before you start any party planning process, you need to have a budget in mind. Even if you don't have an exact amount you want to spend, have a ballpark figure in mind. This will help you budget for each party item. This number will also help you determine how many people you can host.
How Many People Your Home Can Comfortably Hold?
The next big question you need to ask yourself is how many people can comfortably fit in your home or backyard. This may be dependent on several factors such as seating, how large a space you have, and if you will be utilizing both your indoors and outdoors for the party.
Where In Your Home Will You Host The Graduation Party?
Are you going to have an indoor party or an outdoor party? You will want to keep in mind the weather as well. In a perfect situation, an outside location is a perfect backdrop for an outdoor celebration. But if you need to move your party indoors, be prepared for the possibility. You can also utilize your garage and patio for serving areas or for helping you keep your party contained from the outdoor elements in a pinch. You may also decide to have a dual party setting where you utilize both indoor and outdoor spaces.
If space and budget allow, you may also want to consider renting a large tent if you have the perfect spot in your yard.

Graduation Party Food Ideas: Planning Your Party Menu
The next thing you need to plan is the delicious food. Your guests will be hungry but when you plan your party can help you save a lot of money on food. Consider hosting your party around 2 pm if you want to really maximize your budget! This is the sweet spot where most people will have had a big meal, and smaller portions will satisfy them until the end of your party.
If you want to have them over for a meal, then plan for around 11 am or 4 pm. If you need cheap eats on a budget, consider bar-style food such as a taco bar, pasta bar, or baked potato bar. This will stretch your budget further and allow you to feed a lot of people for a lot less.
Also, cooking the food yourself will save a lot of money. Catered events are VERY expensive. I usually plan the menu ahead of time so I can keep an eye on the sale circular for our local grocery store. In addition, I shop at the wholesale club we belong to and buy in bulk.
Decorating your Home for Your Graduation Party
You know where you'll be setting up your party and what they're going to eat, but now it's time to talk about decorating for your party! The first step is to go through what you have! Do you already have paper plates, cups, and placemats? Use those! Work in additional decor to your party after you've already taken inventory of what you have.
This is a great way to save money and to help you throw your party on a budget. If you want to get a little fancy, consider heading to the Dollar Store to pick up graduation-specific table decorations to make your party more graduation-themed.
Another fun graduation party decorating tip is to display achievements, diplomas, old school photos, their graduation cap and artwork of the graduation.
Flowers always add a nice touch to any party. Grab some mason jars and cut flowers at your local farmers market for an easy table centerpiece idea. Not only is this a great idea, but homemade floral arrangements are very cost-effective too.
Play That Funky Music
Ok, not really, but if you choose to have music at your party, you can either make your own play list or if your budget allows, hire a DJ. My kids usually take care of the playlist so we always save money in the music department.
These graduation tips are going to be timeless as your kids grow up and eventually graduate. Trust me, when you start planning your party, you'll be glad you have these tips handy!
Best outdoor graduation party ideas & tips
Coordinate your graduation party theme with the graduate's school colors. Plan ahead and stock up on graduation decorations and table decor when they go on clearance at the end of summer before your party.
Plan some fun outdoor games (like corn hole, horseshoes, washers, lawn games etc.).
Buy or Create a Graduation Banner at home.
Even if you don't have a DJ, create your own playlist and have a designated dance floor.
Create your own photo backdrop.
Make your own DIY photo booth with photo props.
Need ideas for a fun dessert table? Have an ice cream bar or candy bar.
Decorating with string lights are an easy way to add ambiance to your party
Make sure you have plenty of bug spray for your guests to use in case the bugs are bitin'.
Print your own graduation party invitations at home to save any additional cost of ordering online
Don't Forget These Graduation Party Supplies
Graduation Party Invitations
Graduation Candy Bar Signs & Labels
Words Of Wisdom For The Graduate
I hope these fun outdoor graduation party ideas help. Take a deep breath and enjoy the planning process.
Check out these helpful college planning tips
The Essential College Packing List
Organization Tips For College Students
25 Questions To Ask A College Representative
10 Things To Teach Your Kids Before They Leave for College
Save these tips for planning a memorable graduation party for later. Pin the image below to your favorite Pinterest Board.