Summer Bucket List For Families

Keep the kids entertained during their break from school with this fun Summer Bucket List For Families. This free summer printable has a ton of fun and enjoyable things to do as a family to bond and make memories together.
This post may contain affiliate links. We may receive a small commission if you click and purchase something. Please see our disclosure policy for more details.
Do your children often complain that they're feeling bored during the summer? It's not uncommon for kids to feel this way when they're no longer going to school for two months!
However, you can make sure that this summer is one for the books, sure to leave you and your loved ones with lots of memories to laugh about in the future by using this Summer Bucket List. The list contains a bunch of great ideas on activities you can do as a family.
What Is a Summer Bucket List For Families?
A summer to-do list is any list of things you plan to accomplish this summer. While it may seem like a lot of time, it's a little more than two months that your children will be out of school and at home, looking for fun things to do. If you have one of these lists printed out, you can easily access it and come up with some fresh, fun ideas that your children will love. The list contains all kinds of ideas!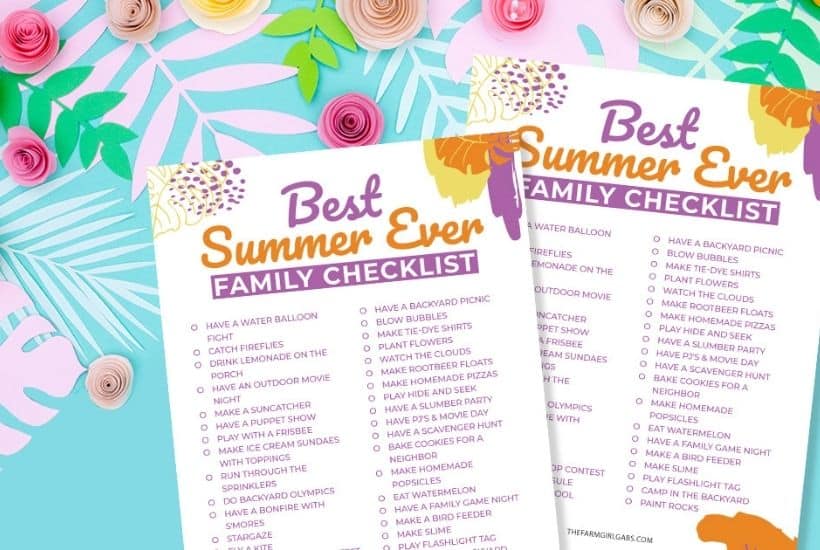 How to Use the Printable
If you want to use this printable with your children, be sure to print the list and show them all the fun ideas available. Instead of choosing the first thing to do, you can let the kids decide. If they're fighting over what to do first, let each child choose one thing to do throughout the week to make it fair and fun. You can download this free summer bucket list below.
For example, one may want to plant flowers, so you can dedicate a day to gardening with the kids. On the other hand, another child may want to make homemade pizzas for dinner, which is another great way to bond while preparing flavorful food and having fun together as a family.
Will I need to spend a lot of money on supplies to complete things on this to-do list?
No, you won't need to spend much money on supplies on the items on this to-do list. For example, if you're going to plant flowers, you'll only need to buy the seeds and soil, unless you already have those items at home.
It won't cost you anything to do many of the activities on this list, such as the scavenger hunt, slumber party, backyard Olympics, and even the hula hoop contest.
Can I tweak some of the different activities on this list?
Absolutely. You can tweak anything on this list. For example, instead of painting rocks, you might want to paint pictures on canvas. Instead of baking cookies for a neighbor, you might want to bake a cake, cupcakes, or even some homemade banana bread. Feel free to pull ideas from this printable and then adjust them a bit to do different things throughout the summer months.
Keep your kids entertained throughout the summer with this convenient Summer Bucket List. The printable features lots of fun activities that will encourage family bonding time while helping you make memories with your loved ones.
Helpful Tools & Equipment Needed For Free Printable Summer Bucket List
How do I access the printable?
Click the link above. After you submit the form, you'll receive an email from "The Farm Girl Gabs" with a link to download the printable. If you do not see the email in your inbox within a few minutes, check your spam folder.
Where can I find my file after I download it?
The most likely place will be in your computer's Downloads folder. You can also select "Downloads" in your browser menu to see a list of your downloads, then simply select "Show in folder" below the file name to see where it is stored on your computer.
How do I print a PDF?
You'll need a program that supports PDFS, like the free Adobe Acrobat. Open the program, click File > Print. Select your printer and set the number of copies you want to print. Double-check your print preview, then click print.
Free Printables For Families
Summer Supplies for Kids