Raise a mug to this delicious Drunken Pumpkin Spiced Latte. This simple recipe is the perfect adult fall drink.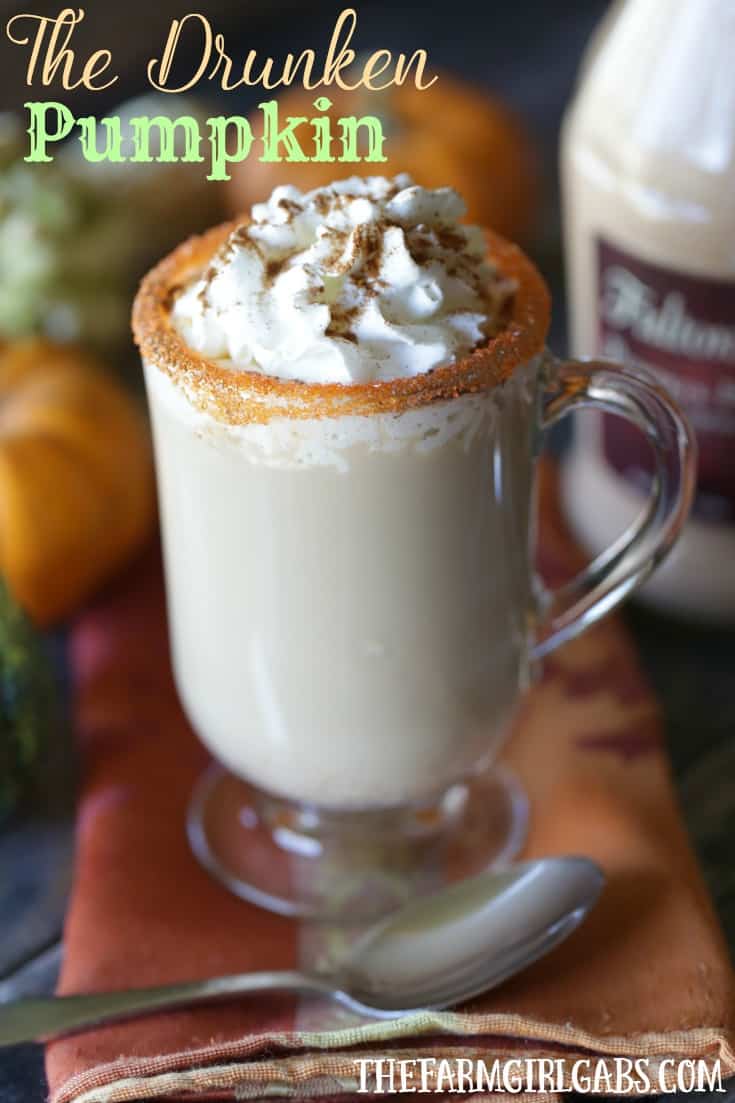 Hey friends, I realized recently that it has been a while since I shared an adult beverage recipe with you. So, in the spirt of fall, pumpkins and all things pumpkin-spiced latte, I am here today with a super simple adult coffee. The Drunken Pumpkin Spice Latte is my adult version of the classic Pumpkin Spice Latte. As you probably know, PSL's as I like to call them, are quite the rage come fall. I have a few friends who patiently wait for the announcement in early September that they are back on the menu at Starbucks or Dunkin Donuts.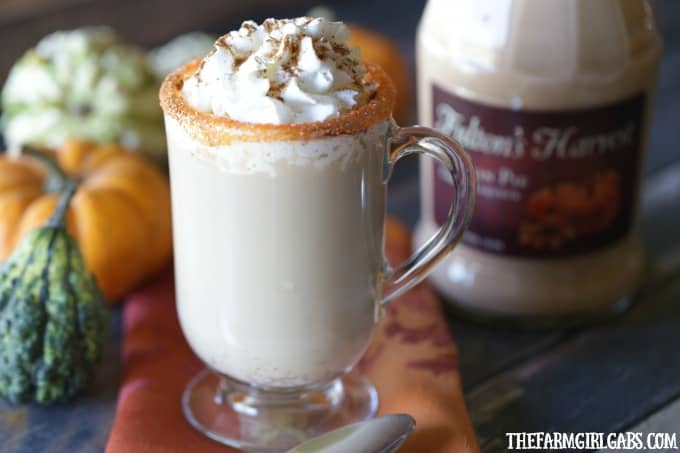 I would not consider myself a barista in any sense of the term. In fact, I tend to be a "Plain Jane" when it comes to my coffee (cream and sweetener, thank you.). But this Drunken Pumpkin is pretty darn good. Did I mention how simple it is to make. Yep, just a few ingredients needed to make this kicked up version of the fall classic.
I found this delicious Pumpkin Pie Liqueur while shopping a few weeks ago. Hello friend! So basically, the recipe calls for coffee, Pumpkin Pie Liqueur, pumpkin pie spice and a nice heaping portion of whipped cream. That's it! Since the liqueur is a cream base, there is no need to add milk or cream. If you can't find Pumpkin Pie Liqueur, then add a shot of pumpkin vodka along with some milk or cream.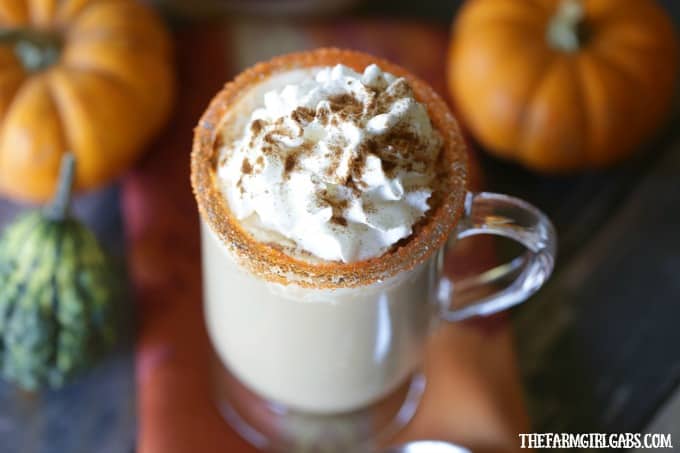 I lined the rim of a coffee mug
 with some light corn syrup. Dip the rim in some orange sanding sugar to make this drink even more festive. I am a whipped cream kinda gal, so I made sure to add a lot. Sprinkle some extra pumpkin pie spice on top too! Drink up and enjoy!
The Drunken Pumpkin Spice Latte
Raise a mug to this delicious Drunken Pumpkin Spiced Latte. This simple spiked coffee recipe the is perfect adult fall drink.
Author:
Melissa Russo / thefarmgirlgabs.com
Ingredients
6 ounces strong brewed coffee
2 ounces Pumpkin Pie Liqueur
½ teaspoon pumpkin pie spice, plus extra for garnish
Light Corn Syrup
Orange Sanding Sugar
Whipped Cream
Instructions
Dip rim of glass coffee mug in corn syrup and then into orange sanding sugar.
Brew 6 ounces of coffee in a separate mug . Add pumpkin pie spice and 2 ounces of pumpkin pie liqueur. Stir.
Pour into glass with sugar-lined rim.
Top with whipped cream. Sprinkle with pumpkin pie spice.
Notes
Can use pumpkin pie vodka instead of pumpkin pie liqueur. Add cream if choosing this option.