Whip out that blender and whip up one of these delicious 27 Milkshakes To Make At Home!

Summer is here and it's time for a refreshing ice cream treat. Milkshakes have a special place in my heart. I have very fond memories of mom and dad breaking out the Oster Milkshake Maker
and whipping up some frosty concoctions. I like my milkshakes thick! The thicker
the better for me. While I love a good shake
any time during the year, summer is the quintessential time to enjoy a cold frosty ice cream drink.
So if you need a frosty treat to round out your day, here are a few of my own from The Farm Girl Gabs:
Peanut Butter Mocha Caramel Frappe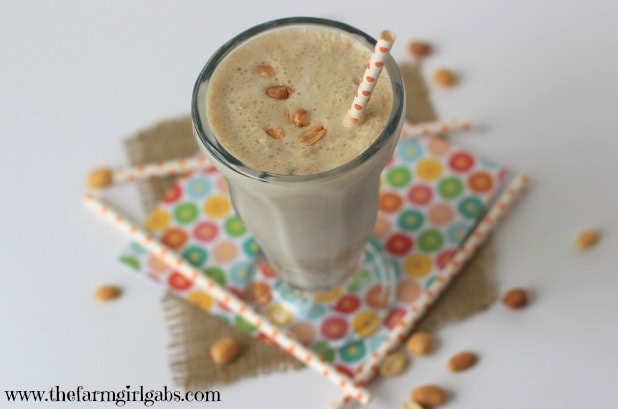 Copycat Peanut Butter & Jelly Milkshake From Disney's Prime Time Cafe
27 Milkshakes To Make At Home!
Strawberries & Cream Shake

– Cincy Shopper

Peanut Butter Cookie Milkshake

– Recipes From A Pantry

Freakshakes: Extreme Milkshakes

– Amanda's Cookin'

S'mores Milkshake

– The Love Nerds

Peachy Peach Milkshake

– Savvy Saving Couple

Shamrock Shake

– Baking Beauty

Cookies & Cream Banana Birthday Shake

– Frugal Foodie Mama

Strawberry Donut Milkshake

– Cutefetti

Peanut Butter and Brownie Milkshakes

– The Little Kitchen

Whoppers Malted Milkshake

– 5 Minutes for Mom

Pumpkin Milkshake

– Dining with Alice

Fruity Pebbles Ice Cream Milkshake

– See Vanessa Craft

Chocolate Peanut Butter Milkshake

– Almost Supermom

Easy Maple Apple Milkshake

– Snappy Gourmet

Banana Pudding Milkshake

– Mom Endeavors

Apple Pie Milkshake

– A Turtle's Life for Me

Homemade French Vanilla Milkshake

– The Rebel Chick

Red Velvet Cake Milkshake

– My Organized Chaos

Salted Caramel Chocolate Milkshake

– Art From My Table

Extreme PB 'N Cones Milkshake

– {Not Quite} Susie Homemaker

Oreo Milkshake

– Midget Momma

Cookie Dough Milkshake

– Princess Pinky Girl

Vanilla Berry Milkshake with Cake and Berry Skewers

– Mama Loves Food

Brownie Batter Milkshake

– Delightful E Made

Thin Mint Milkshake

– A Night Owl Blog

Fried Ice Cream Milk Shake

– Crafting Chicks

Unicorn Food Cake Shake

– Frugal Mom Eh