Mickey's Not So Scary 2022 Halloween Party Guide
Mickey's Not So Scary Halloween Party 2022 is in full swing and there is a lot of ghoulish fun happening over at the Magic Kingdom. Here are details about the event and how to book your tickets for some extra Halloween magic at Walt Disney World.
This post may contain affiliate links. We may receive a small commission if you click and purchase something. Please see our disclosure policy for more details.
If you don't know what Mickey's Not So Scary Halloween Party is, it's a family-friendly Halloween event that's not too intense for kids to enjoy, but fun for all ages. The evening is a separately ticketed event that takes place after the Magic Kingdom closes on select dates through October 31.
The night includes trick-or-treating, exclusive entertainment, attractions, limited attendance, and more. Here is everything you need to know about the Mickey's Not So Scary 2022 bash.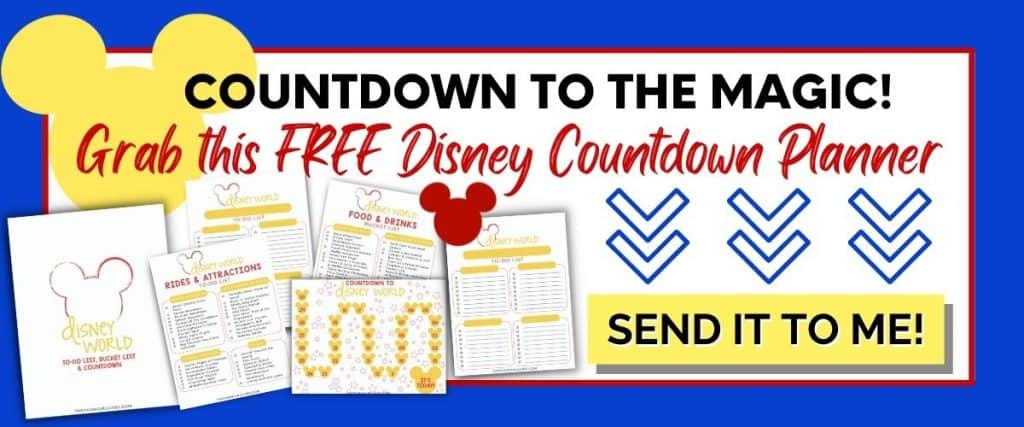 Tickets and Dates
Tickets for Mickey's Not So Scary 2022 are almost all sold out. You can buy tickets online here. There are only three September dates still available: 9/25, 9/27, 9/29. Throughout October Tuesdays, Thursdays and Fridays remain wide open.
All prices start at $159 for adults with Friday ticket prices increased to $179. Additional dates for the party in the month of October are Monday 10/10, Sunday 10/16, and Sunday 10/23. October 30 and 31 are sold out.
Exclusive Entertainment
During the party, you will have a chance to ride attractions with lower wait times due to the limited crowds and the number of performances that will absorb crowds, particularly during the first scheduled shows.
The Hocus Pocus Villain Spectacular on the Castle Stage has three performances each night. October introduces a fourth nightly performance. That means plenty of chances to catch the show. Meanwhile, the largest percentage of guests will be waiting to see the first showing.
That is a great time to walk on rides with typically long wait times. The Hocus Pocus show features the Sanderson Sisters and a wicked assortment from the Disney rogues gallery.
Likewise, the Boo to You parade has two start times. The twenty-minute parade begins in Frontierland and ends in Town Square. The first parade steps off at 9:15 with the final parade beginning 2 hours later at 11:15.
At 10:15, one hour before the second Boo to You parade, Disney's Not So Spooky Spectacular will light up the skies and the castle. The show features Mickey and his pals and their misadventures in a haunted house using state-of-the-art projection mapping technology.
There will be loads of entertainment on Main Street and in front of the castle all night, so you might want to stick to the side routes to get around the park until you're ready to stake out a spot to enjoy the shows. Meanwhile, The Cadaver Dans will perform regular sets in Frontierland.
Attraction Overlays
Three Attractions at Mickey's Not So Scary 2022 will feature holiday makeovers for the Halloween event. The Mad Tea Party will include spooky ethereal effects and Halloween lighting. Space Mountain has new exterior lighting for the event and inside it lights out for a deep space dive with a special Halloween soundtrack.
Finally, the Monsters Inc. Laugh Floor has a Halloween-themed lineup of jokes for the interactive, live shows where anything can happen. In addition, there are 19 other attractions open for the event, including The Haunted Mansion, Pirates of the Caribbean, Big Thunder Mountain, Splash Mountain, the Seven Dwarfs Mine Train, and most of Tomorrowland and Fantasyland.
Photopass and Extras
One of the perks of attending the event is the exclusive Photopass opportunities. There are Halloween-themed Magic Shots that you can take with a Photopass photographer and Photopass cast members stationed throughout the park to capture and highlight special moments.
You can take all the pictures you want and only pay for the ones you keep, or you can purchase Memory Maker and get all photos, including ride photos. One day of Memory Maker is $69. Three days is $169.
Costume Guide
At Mickey's Not So Scary 2022, there are trick-or-treat trails for costumed kids to enjoy throughout Magic Kingdom. However, there are also lots of treats and drinks for grown-ups to enjoy, too.
Most of the time adults are discouraged from wearing costumes into the park which is why they invented DisneyBounding, a low-key way to be your favorite Disney character in the parks without anyone actually confusing you for said character.
For Halloween events, the rules get bent, just a little and adults are allowed to enjoy some costumed fun, too. No matter what, there are some firm policies regarding costumed guests that you will need to learn before arriving. Bringing prohibited items or wearing prohibited clothing will get you turned away at the front gate, or even escorted out of the park.
Disney Halloween At Home
Check out these Disney Planning Tips
Pack More Fun With These Disney Travel Essentials