There is no better way to celebrate a day like July 4th than with some homemade red, white, and blue Patriotic Butter Cookies. Try this recipe for some of the tastiest, most flavorful baked cookies ever!
This post may contain affiliate links. We may receive a small commission if you click and purchase something. Please see our disclosure policy for more details.
Whether you're hosting family and friends or simply looking for a sweet, tasty treat to prepare for those closest to you, such as your children and partner, you'll be glad to have this easy, stress-free recipe for Patriotic Butter Cookies in the kitchen.
With such simple ingredients and a bit of your time, you can make colorful cookies that melt in your mouth with each bite taken. So, if you need the perfect cookie recipe for the 4th of July or any other occasion, this is perfect patriotic treat for you!
What Are Butter Cookies?
Butter cookies are a light, wholesome cookie with a slightly sweet touch that can melt in your mouth! Composed of unsalted butter and several other ingredients, including sugar and flour, they're a classic cookie that most people absolutely love. You'll add something extra to these classic cookies with the red, white, and blue sprinkles included in the batter.
Butter Cookie Ingredients
Make the tastiest yet easiest cookies ever with the right ingredients that will have everyone asking you for a copy of the recipe.
Unsalted Butter – Of course, if you're going to make butter cookies, you'll need butter. Make sure it's the unsalted kind.
Sugar – Enhance the taste of your cookies with granulated white sugar that will give them that perfect sweetness.
Vanilla Extract – The vanilla takes these butter cookies to the next level, making them even better!
Eggs – Be sure to leave your eggs at room temperature before using them because then they're easier to work with when preparing your cookie dough.
Brown Sugar – A touch of brown sugar goes great in this cookie recipe.
A few other important ingredients to use include flour, baking powder, salt, and the Americana sprinkles, which you'll use on the outside of the cookies. In addition, be sure to have some extra butter, powdered sugar, water, and more vanilla extract to prepare the sweet glaze for these cookies.
Why does the butter need to be softened beforehand?
It's best to work with softened butter when combining your ingredients to form the cookie dough. If you don't leave it out for at least an hour in advance, it may be too solid to really mix in with the other ingredients.
Do I need to use light or dark brown sugar?
Light brown sugar will work best in these cookies. However, if you'd like to have a bit more of a molasses taste, you can use dark brown sugar. It's up to you to decide which you'd like best.
Is the glaze a necessity?

While the glaze isn't exactly a necessity, it truly sets these Patriotic Butter Cookies apart from other types of butter cookies. Once you try your cookies with it, you won't want to go back to eating them without the glaze ever again. It's also super simple to prepare the glaze with only four ingredients.
Celebrate the 4th of July with family and friends this year while serving these flavorful cookies with red, white, and blue sprinkles. You can expect everyone to enjoy them!
More Easy Cookie Recipes To Make
Italian Christmas Cookies
The Best Spritz Cookies
Classic Linzer Cookies
Mexican Wedding Cookies
Chocolate Crinkles
Eggnog Cookies
Cookie Baking Kitchen Essentials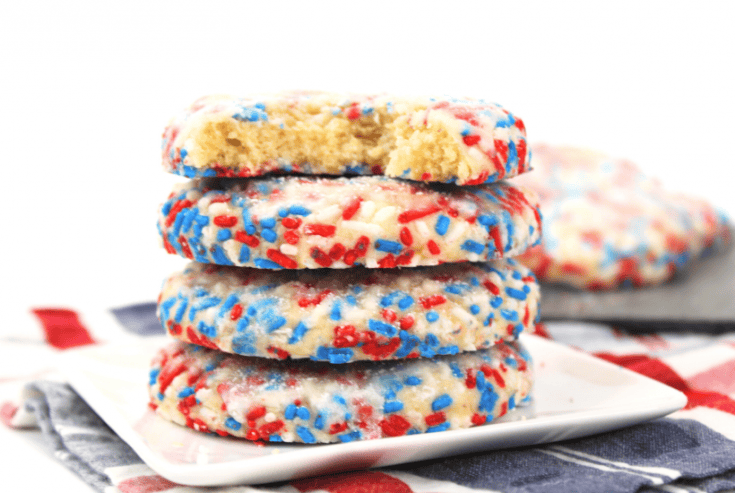 Yield:

20-24 Cookies
Patriotic Butter Cookes
There is no better way to celebrate a day like July 4th than with some homemade red, white, and blue Patriotic Butter Cookies. Try this recipe for some of the tastiest, most flavorful baked cookies ever! This easy red, white and blue recipe is a delicious 4th of July Recipe. This classic butter cookie recipe is rolled in red, white and blue patriotic sprinkles.
Ingredients
1 cup unsalted butter, softened
2⁄3 cup Sugar
4 tbsp. Brown Sugar
2 eggs, room temperature
2 tsp Vanilla extract
3 cups Flour
2 tsp Baking Powder
1⁄2 tsp Salt
1 cup Americana sprinkles ( for outside of cookie )
New Group
Glaze
4 tbsp Butter
1⁄2 cup Powdered Sugar
4 tsp Water
1⁄2 tsp Vanilla extract
Instructions
Preheat the oven to 350' degrees
Line a baking sheet with a baking mat or parchment paper and set aside
In a bowl of a stand mixer add the butter, and both sugars. Mix on medium speed until combined.
Add the eggs and vanilla extract to the sugar mixture and mix until combined.
In a medium-sized mixing bowl add the flour, baking powder, and salt. Whisk to combine.
Add the flour mixture to the sugar mixture 1 cup at a time until combined.
Using a cookie scoop, scoop out dough balls and roll in your hands to make it a round ball.
Pour your sprinkles in a bowl and roll the dough ball into the sprinkles. Make sure to evenly coat the sprinkles on the cookie dough.
Place on the cookie sheet and lightly press down by using your hand or the back of a measuring cup.
Bake the cookies in the oven for 10-12 minutes.
Remove from the oven and set to the side.
Add the glaze to the cookies by using a sauce brush. Make sure to cover evenly.
Allow the glaze to harden then serve.

Glaze:
In a medium saucepan add the butter, sugar, water and vanilla.
Cook over low to medium heat.
Stir constantly
Once the mixture is dissolved remove from the heat
Set to the side.