Peach & Rosemary Focaccia Bread
Get ready for a light and refreshing treat with this delicious Peach & Rosemary Focaccia Bread. It has the perfect naturally sweet touch with peaches, making it the perfect quick snack to enjoy!
This post may contain affiliate links. We may receive a small commission if you click and purchase something. Please see our disclosure policy for more details.
Focaccia Bread with Peach and Rosemary
Focaccia bread, the Italian-style bread baked in the oven and known for having a pizza-like texture, is the perfect treat to have at home when you're in the mood for something wholesome and flavorful. Peaches are in season and this is a perfect peach recipe to celebrate the season. Be sure to grab some at your local farmers' market.
This recipe for Peach & Rosemary Focaccia Bread, you're combining two incredible flavors into one to make bread that has a light, sweet taste and amazing texture that keeps you coming back for more.
What You'll Need to Make the Peach & Rosemary Focaccia Bread
If you're ready to try this heavenly flavor combination, be sure to grab the following ingredients to get started:
Active Dry Yeast – You'll need some yeast to ensure your bread rises and comes out perfect!
Bread Flour – Use the bread flour as the base for your homemade focaccia bread.
Semolina Flour – The combination of fine semolina flour and bread flour gives this bread its excellent pizza-like texture.
Honey – Add a bit of honey to the mixture for a slightly sweeter taste.
Peach – Grab a large peach, remove the pit, and then slice it into pieces for this bread.
Rosemary – You'll place the fresh chopped rosemary on top of the bread as a finishing touch.
The only other ingredients you'll need for this recipe include salt, olive oil, and lukewarm water.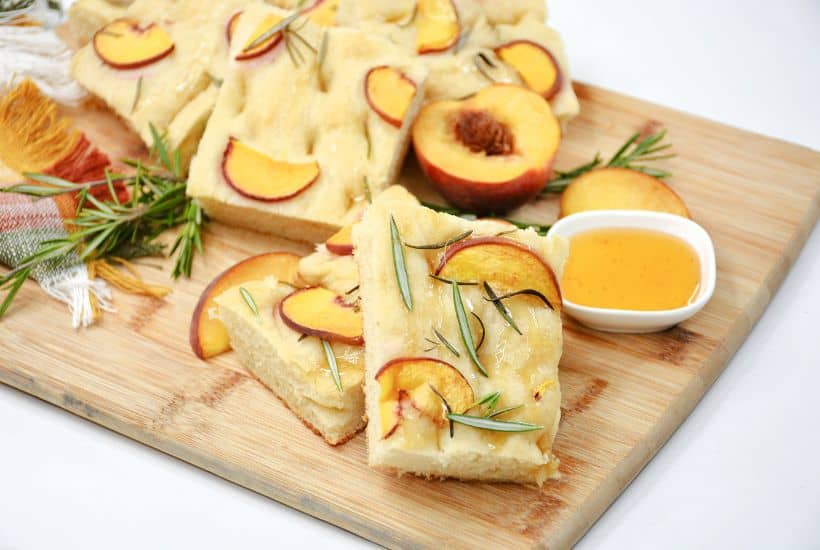 Can I use frozen peaches for this bread?

It's best to use fresh peaches, where you'll wash the fruit, remove the pit, and slice it. However, if you only have frozen peaches, you can use them. Your best bet is to allow them to thaw, remove the excess moisture from them, and then add them to your bread mixture.
Do I have to use fresh rosemary?
Fresh rosemary will taste best and should be used for this focaccia bread. If you don't have fresh thyme, you can use the bottled kind as a last resort, but it won't be the same as using the fresh thyme for this flavorful bread.
How long do I need to knead the bread?
You should spend at least five minutes kneading the bread dough to get it ready for baking. After kneading, you'll leave the dough in a bowl and allow it to sit and expand for a bit before you bake it.
Is this bread sweet?
This bread does have a slightly sweet taste from the peaches and the honey. However, it's not an overpoweringly sweet taste.
Recipe Notes
Knead your dough until it becomes smooth and tacky. It should feel slightly sticky before you place it in the large bowl and allow it to set and expand.
Make sure to wrap your dough in the bowl with plastic wrap before placing it in a warm spot in the kitchen and letting it sit for a minimum of 30 minutes. It should double in size, becoming puffy by the time you're ready to put it in the oven.
Although this bread is perfect the way that it is, you can prepare a glaze using heavy cream, powdered sugar, and a bit of vanilla extract, and then drizzle the glaze on top as a finishing touch.
Bread Making Kitchen Essentials
Peach and Thyme Focaccia Bread
Total Time:
2 hours
10 minutes
Get ready for a light and refreshing treat with this delicious Peach & Rosemary Focaccia Bread. It has the perfect naturally sweet touch with peaches, making it the perfect quick snack to enjoy!
Ingredients
1 pack of active dry yeast
3/4 cup lukewarm water
1 1/2 cups bread flour
1/2 cup fine semolina flour
1/4 cup olive oil
2 teaspoons honey
1 teaspoon kosher salt
1 large peach, pitted and thinly sliced
1 /4 cup honey
Chopped fresh thyme, for topping
Instructions
Using a medium bowl, whisk the 3⁄4 c of lukewarm water and yeast until combined and frothy
Using a standing mixer with paddle attachment, combine bread flour, semolina flour, olive oil, and honey
Beat in the yeast mixture until combined
Add salt and switch to the dough hook attachment on your mixture
Knead for 5 minutes or until smooth and slightly tacky
Sprinkle flour onto the counter and remove dough from the mixing bowl.
Knead the dough a about three times and form into a ball
Coat the sides of a large bowl with olive oil
Place the dough into the bowl and and cover with plastic wrap and place into a warm area for 30 minutes or until puffy
Grease a quarter sheet size pan and place the dough onto the sheet pan
Press the dough out into the sheet pan forming a rectangle
Fold the dough into half lengthwise and then fold in half crosswise
Fold in half once more to form a rectangle
Cover with plastic wrap and place into a warm place for an hour or until the dough has doubled in half
To help with creating a warm place, preheat your oven to 200 degrees, once preheated turn oven off and place the dough into the oven
Once dough has doubled in size remove the plastic wrap and preheat the oven to 400 degrees
Press the dough out to fill the entire pan and using your fingers, poke indentions into the dough
Drizzle with olive oil and spread to cover the entire dough
Arrange the peach slices and sprinkle with the thyme
Cover again and allow to rest for 30 minutes
Bake in the oven for 25 minutes or until the top of the bread is a light golden brown
Remove from oven and allow to cool for 15 minutes before enjoying!