I am all about easy and delicious appetizers. These tasty Pesto Cheese Shrimp Bites are the perfect recipe to serve at your next spring party.
Now that spring has sprung, and the sun is peeking its head out of the clouds, it's time to start thinking about the great outdoors. Outdoor entertaining season is just getting started. These Pesto Cheese Shrimp Bites are an easy and elegant appetizer to serve at your next gathering. Do you love RITZ Crackers as much as I do? I love these crackers. They are not just for snacking! You can create so many simple garnishes to top them with.
My RITZpiration behind this recipe comes from my beloved herb garden where I make sure I grow plenty of basil. A simple basil pesto gives this appetizer a refreshing spring taste. I would be lost without my herb garden. Herbs add such wonderful flavor to recipes. Planting an herb garden is the first thing I do once the weather warms up. Target has a great selection of potted herbs. So when you are ready to get your garden growing, make sure you stop by your local Target and check out their selection. No room for an herb garden? Container gardening is the perfect solution. Try planting your herbs in larger pots and place them on your deck.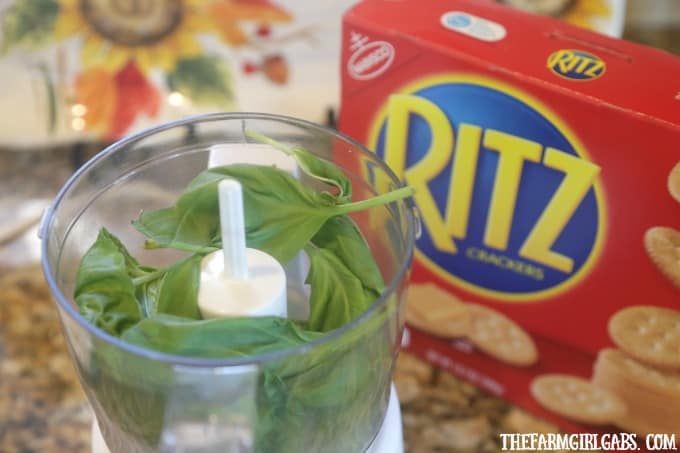 To make a simple pesto, add fresh basil leaves, garlic, and pine nuts to a food processor. If you have a nut allergy, leave the nuts out. While the leaves are processing, slowly drizzle in some olive oil and mix until smooth. This recipe only calls for a few tablespoons. You can store any remaining pesto in a food storage container in the refrigerator. Pesto is perfect to add to pastas for a quick meal.
I mixed a few tablespoons of the pesto with some light cream cheese. Spread some of the pesto cheese on the RITZ Crackers. Top with some sautéed (or grilled) shrimp.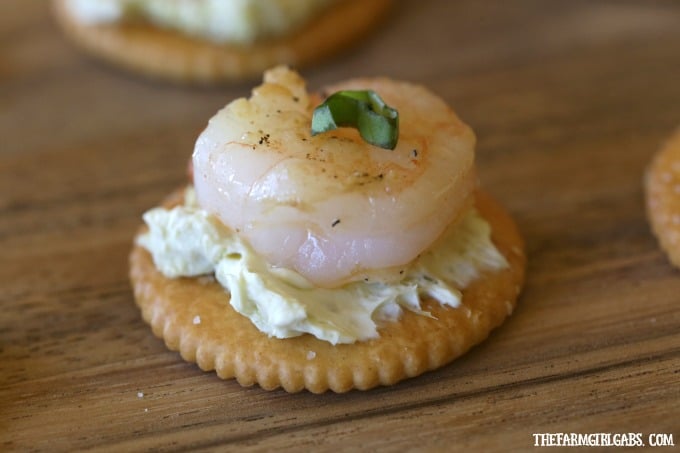 Aren't these the perfect little bites. I topped each shrimp with some chopped basil for some extra flavor. I love to get creative in the kitchen.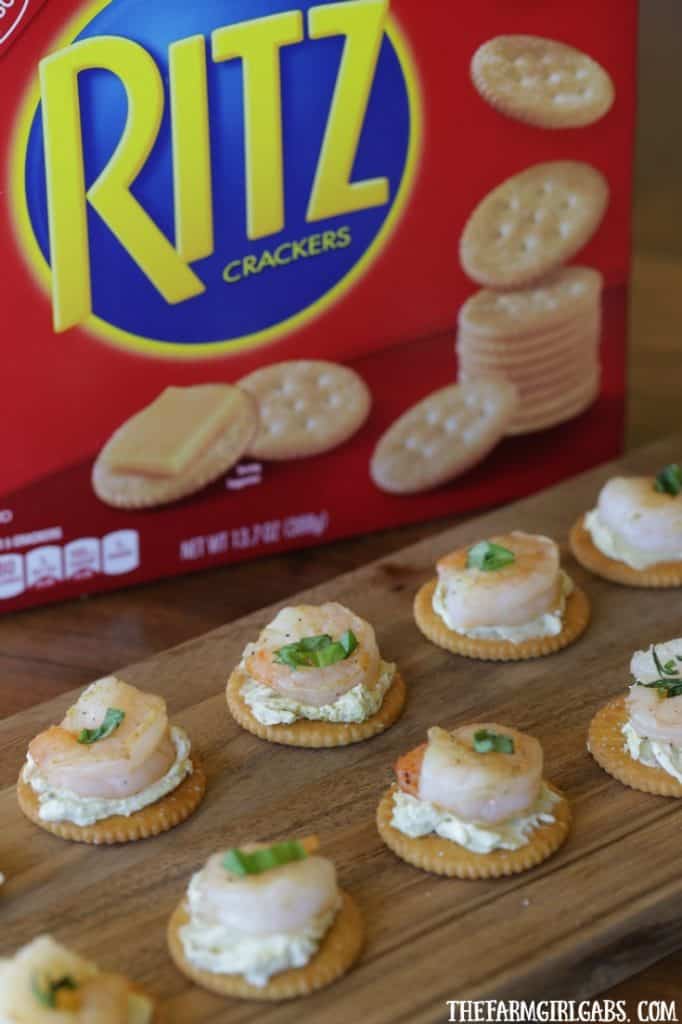 Here is another great snack RITZpiration idea you can make using the basil from your garden.
https://drive.google.com/drive/folders/0B6aOHxraPi_RZDhWcGVyWFR6Rnc
Print
Pesto Cheese Shrimp Bites
Yield 24 Appetizers
These EASY tasty Pesto Cheese Shrimp Bites are the perfect recipe to serve at your next spring party.
Ingredients
RITZ Crackers

24 medium shrimp, cleaned, deveined with tails removed

4 ounces light cream cheese

½ teaspoon minced garlic

Salt and pepper to taste

1 cup fresh basil leaves

¼ cup pine nuts

Olive Oil

Basil, finely chopped for garnish

¼ teaspoon Garlic Powder
Instructions
Heat a grill pan over medium-high heat.

Add 1 tablespoon of olive oil. Season shrimp with salt, pepper and garlic powder. Cook until pink, turning once. Remove from pan and set aside.

To make pesto, add basil leaves and pine nuts to a food processor. Turn on and slowly drizzle in olive oil until pesto is smooth.

In a medium bowl, add light cream cheese, minced garlic, salt and pepper (to taste) and about 1 heaping tablespoon of the pesto. Beat until smooth.

Spread one teaspoon of the pesto cheese filling on top of a RITZ Cracker. Top with a grilled shrimp. Garnish with chopped basil.
Courses Appetizer

I was selected for this opportunity as a member of CLEVER and the content and opinions expressed here are all my own.

This post may contain affiliate links to help support this blog. Please see my