The Best Chili Mac Recipe
Prepare a fulfilling meal for the family with this wholesome and hearty Chili Mac. Loaded with flavor, this easy comfort food recipe is perfect to make for lunch or dinner with a side of cornbread or garlic bread!
This post may contain affiliate links. We may receive a commission if you click and purchase something. Please see our disclosure policy for more details.
Do you want to prepare a meal that keeps bellies full and satisfied? If so, the Chili Mac recipe is a must-try. You can expect to enjoy this meal if you're a fan of chili and macaroni because it combines the two to create a dish that both children and adults can enjoy.
This recipe also makes an easy weeknight meal. So make sure you add this to your weekly meal plan.
Using macaroni with a blend of spices, kidney beans, cheddar cheese, and more, you can have a satisfying meal hot and ready for the family.
What Is the Chili Mac?
Chili Mac and Cheese is an incredible dish that adds elbow macaroni to chili, creating a satisfying and wholesome meal that you can tear into with family and friends. It's the perfect meal to make when you want a quick homemade meal.
Ingredients To Make Chili Mac & Cheese
Macaroni
Ground Beef or Turkey
Pepper
Onion
Roasted Tomatoes
Black Beans or Kidney Beans
Cheddar Cheese & Monterey Cheese
Spices
How To Make Easy Chili Macaroni & Cheese
Do I have to use macaroni pasta?
While macaroni pasta goes great in this Chili Mac recipe, you can use any other type of pasta that you like, such as bowties, penne, or small shells.
Do I have to use ground beef?
No! If you don't want to use ground beef, you can make a leaner version of this dish by replacing it with ground turkey. The ground turkey will taste just as good in this recipe with the seasonings, kidney beans, and other ingredients.
Where can I find fire roasted tomatoes?
Most grocery stores sell cans of fire roasted tomatoes in the aisle with the canned vegetables. If you can't find them, you can roast the tomatoes yourself before dicing them into small pieces and adding them to the pan with the other ingredients.
Kitchen Essentials To Make Chili Macaroni & Cheese
Crock Pot (Crock Pot Chili Mac is so good!)
Why do I need chicken broth for the Chili Mac?
The chicken broth adds flavor and provides the perfect consistency to the dish. You can use any brand of chicken broth that you prefer to use, including reduced sodium options to lower the amount of sodium in the meal.
Can I add more cheese to the Chili Mac?
Of course! If you're a cheese lover, you can add more cheese to this dish. You may want to add more of the Monterey jack cheese or add some of your favorite cheeses into the mix, such as mild cheddar cheese and sharp cheddar cheese. Make this meal as cheesy as you'd like!
Which type of bell peppers should I use?
You can use any bell peppers that you like or have available. It doesn't matter if you use red, green, yellow, or orange bell peppers in this dish!
How do I store the Chili Mac?
Pour any leftovers into a large food storage container with an airtight lid and keep the leftovers refrigerated so that they'll stay fresh. When you need to reheat the leftovers, you can put the Chili Mac in the microwave, heating it for about a minute or less to get it hot again.
The exact amount of time you'll need to heat the food in the microwave will depend on how quickly your microwave works.
Try These Hearty Chili Recipes
Try these Ease Mac & Cheese Recipes
Bacon Cauliflower Mac & Cheese
Creamy Homemade Macaroni & Cheese
Save this easy Chili Recipe. Pin the image below to your favorite Pinterest board.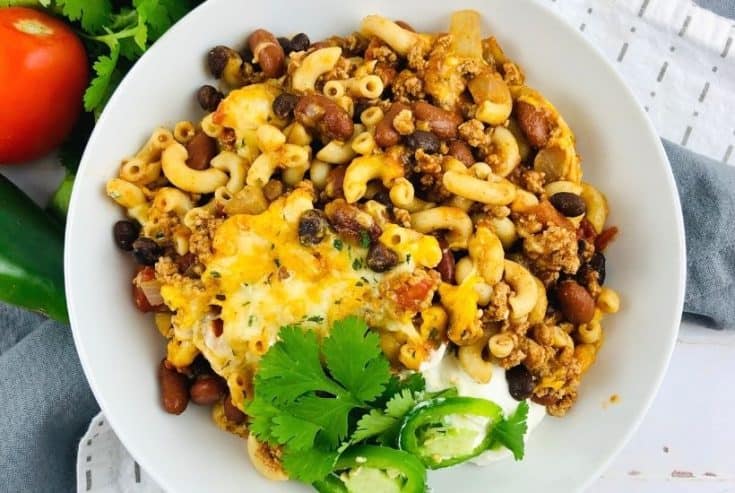 Yield:

4-6 Servings
Chili Mac
Prepare a fulfilling meal for the family with this wholesome and hearty Chili Mac. Loaded with flavor, this recipe is perfect to make for lunch or dinner with a side of cornbread or garlic bread!
Ingredients
1 ½ cups dry macaroni pasta, cooked & drained
1 yellow onion, diced
½ bell pepper, diced
4 garlic cloves, minced
1 lb ground beef or turkey
1 tablespoon cumin
1 tablespoon red chili powder
1 teaspoon smoked paprika
1 can fire roasted tomatoes
1 small can tomato sauce
2 tablespoons tomato paste
1 cup chicken broth
1 can light kidney beans
1 can black beans
1 cup cheddar cheese, shredded
1 cup monterey jack cheese, shredded
Jalapeno slices, sour cream, and cilantro for garnish if desired
Instructions
Cook pasta per package directions, drain, set aside
In a large oven safe pot cook ground meat with onions, bell pepper, and garlic - drain if needed
Stir in seasonings, tomatoes, tomato sauce, tomato paste, broth, and beans
Bring to a boil, then lower to simmer
Add in cooked pasta, stir until well combined
Stir in half of both cheeses
Top with remaining cheeses
Broil on low until cheese is bubbly and lightly browned
Garnish with jalapeno slices, cilantro, sour cream if desired
Serve & enjoy!