Colorful Dyed Easter Deviled Eggs
This easy recipe for Colorful Dyed Easter Deviled Eggs will take your deviled eggs to the next level this Easter. They're bright, fun, and super flavorful!
This post may contain affiliate links. We may receive a small commission if you click and purchase something. Please see our disclosure policy for more details.
Do you like making deviled eggs for Easter? They're one of the best appetizers to serve to a table full of hungry people while the ham finishes roasting. But what if you could take those deviled eggs to the next level, making them look even more exciting and flavorful?
With this recipe for Colorful Dyed Easter Eggs, you can add some fun and vibrancy to those delicious deviled eggs. Kids and adults can enjoy the colorful eggs in shades of pink, purple, green, and yellow, all of which are colors that pair perfectly with Easter and any decorations you might use around the home.
Dyed Easter Egg Ingredients
Before preparing these fun and flavorful deviled eggs, make sure you have the following ingredients:
Eggs – Hard boil six eggs for this recipe.
Water – Use roughly six cups of water.
Vinegar – You will need around four tablespoons of vinegar to use when dying your eggs.
Gel Food Colors – Grab four different colors, such as pink, purple, green, blue, or yellow.
Mayo – Use around ¼ cup of mayo with the yolk for the filing of your deviled eggs.
Mustard – You will need about a teaspoon of mustard to add a special touch to these eggs.
You will also need salt, pepper, and paprika to complete this recipe for the Colorful Dyed Easter Eggs.
Deviled Easter Egg Notes
Add about four to five drops of gel color to each disposable cup. You won't need more than this, or else the color will be dark instead of a pastel-like hue.
When peeling your eggs, be sure to remove the membrane. You can tell if it's still on if the eggs feel rubbery. Your eggs should feel smooth to the touch. If you leave the membrane on, it will mess with the overall color of the eggs, and you don't want that!
When preparing the filling for your deviled eggs, you get creative and add other ingredients, such as relish in the mixture based on how you like to make your deviled eggs.
How Do I Make Hard-Boiled Eggs?
Need a refresher on how to make perfect hard-boiled eggs? Don't worry, I've got you covered. Head on over to this post to learn all of my secrets.
Can I use Miracle Whip instead of mayo for the deviled egg filling?
Yes. If you typically prepare your deviled eggs with miracle whip instead of mayonnaise, you can do that with these Colorful Dyed Easter Eggs.
What's the best way to add the filling to the hard-boiled eggs?
Using a piping bag makes adding the filling so simple. You can attach a star tip to your piping bag to give your eggs that special touch. If you don't have a piping bag, simply use a Ziploc bag. You can add the filling into it, cut a corner off the bag, and then use it to squirt a generous amount of filling in each egg.
Do I serve the eggs immediately after preparing them?
It's best to put your eggs in the fridge for a minimum of 30 minutes to allow them to get cold. You can make the eggs in advance, placing them in the fridge covered and allowing them to get cold enough before serving to friends and family.
Fun Ideas For Your Easter Celebration
Fun Easter Basket Ideas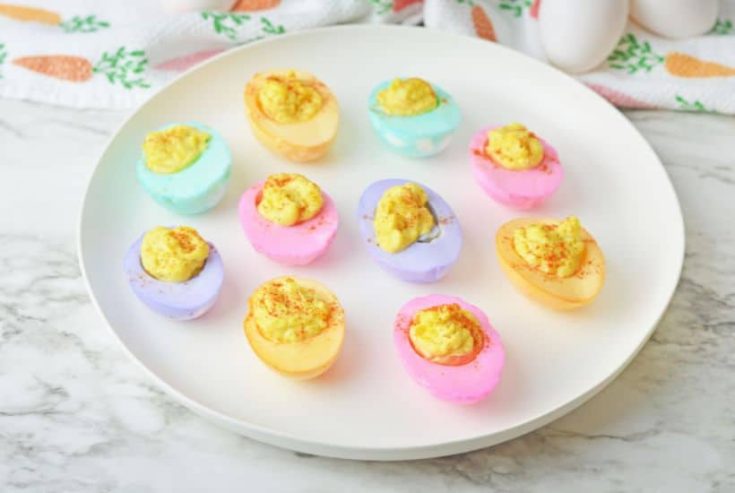 Yield:

6
Colorful Dyed Easter Eggs
Additional Time:
30 minutes
This easy recipe for Colorful Dyed Easter Deviled Eggs will take your deviled eggs to the next level this Easter. They're bright, fun, and super flavorful!
Ingredients
6 eggs, hard boiled
6 cups of water
4 tsp. Vinegar
4 different gel food colors, 4-5 drops each
¼ cup mayonnaise
1 tsp. mustard
1 tsp. Vinegar
Pinch of salt
Pinch of black pepper
Paprika
Instructions
Peel your hard boiled eggs, cut them in half, and scoop the yolks into a mixing bowl. Set aside.
Make sure to remove all of the membrane that tries to stay on the outside of the eggs, you can tell if they still feel rubbery it is still there, they should feel smooth. The membrane will mess with your egg colors if it is left on.
Fill 4 large cups (disposable solo cups are easiest to work with) with 1 ½ cups of water.
Add 1 tsp. of vinegar to each cup.
Drop 4-5 drops of food coloring into each cup, a separate color per cup. Stir to dissolve the food coloring.
Drop your egg white halves into the different colors.
Allow them to soak for 8 minutes.
Meanwhile, make the filling. Use a fork to mash up the egg yolks.
Add mayonnaise, mustard, vinegar, salt, and pepper. Stir well to combine.
Taste test to adjust seasonings & flavors.
Use a piping bag, or a gallon ziploc to pipe the filling back into the colorful egg halves.
Sprinkle paprika over the eggs.
Refrigerate for 30 minutes, or until ready to serve.
Enjoy!