Nothing says Easter quite like this easy-to-prepare cute Bunny Charcuterie Board. Assemble quickly, filling with your favorite fruits, cheeses, and more.
This post may contain affiliate links. We may receive a small commission if you click and purchase something. Please see our disclosure policy for more details.
If you're hosting family and friends this Easter, be sure to add this Bunny Charcuterie Board to the list of foods and snacks you plan to offer. Not only does it fit perfectly with the Easter theme, but it's also easy enough to assemble within minutes and loaded with good-for-you ingredients, such as fresh fruits, veggies, and an assortment of cheese.
You can expect everyone to enjoy digging in from this charcuterie board, including the little ones, who will look forward to seeing this adorable bunny full of treats.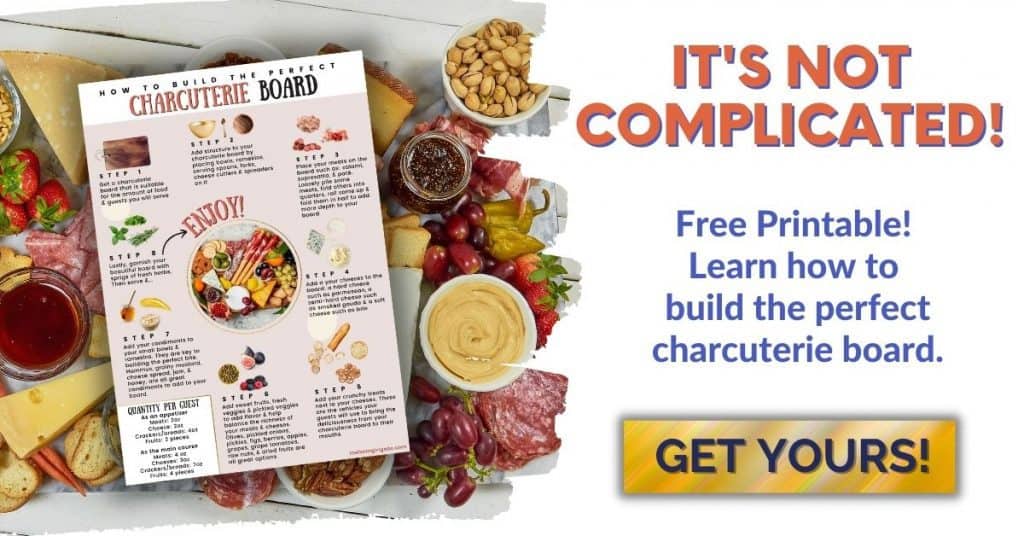 Bunny Charcuterie Board Ingredients
Putting this charcuterie board together is relatively simple. You can grab all the ingredients needed from your local grocery store, such as:
Kiwi – Slice your kiwi into thin pieces.
Cantaloupe – Dice the cantaloupe into small chunks to fit on your board.
Blackberries – Rinse your blackberries and carefully dry them before using them.
Strawberries – Do the same with your strawberries, giving them a good rinse ahead of time.
Fresh Mozzarella Balls – Use the mozzarella balls around the edges of the bunny's ears.
Assorted Cheeses – Grab different types of cheese, such as Colby jack, cheddar, fontina, and pepper jack, and dice them into small pieces.
Baby Carrots – Don't forget the baby carrots to add the perfect crunch to this charcuterie board.
Bunny-Shaped Cutting Board or Baking Pan: This fluted pan I used to create this I found at a local baking store. Here is an alternative that is available on Amazon. A wood cutting board is also another great choice. This one is an equally great option.
Along with these ingredients, you will need some baby tomatoes, peppered salami, and genoa to complete your charcuterie board. Make sure you have a bunny-shaped board before you prep your ingredients and begin adding them together to create this adorable and delicious Bunny Charcuterie Board.
Kitchen Essentials Needed To Make A Charcuterie Board
Charcuterie Board Notes
If you have any allergies to specific fruits, veggies, cheeses, or meats used to prepare the Bunny Charcuterie Board, feel free to replace them with alternative ingredients.
You can use mini white marshmallows as an alternative for the white mozzarella balls if you can't find them or don't want to use mozzarella cheese on your board.
If you want to make this a meatless charcuterie board, simply omit the meats from this recipe and add more fruits, veggies, and cheese to fill it up.
Can I make a vegan-friendly charcuterie board?
Yes! You can remove the meats, adding more veggies and fruits in their place. You can also use vegan-friendly cheeses or swap out the cheeses for nuts, raisins, and other vegan-friendly treats. Get creative and use what you like best to prepare this charcuterie board.
Should I serve this board of veggies, fruits, and cheese with dip?
You can definitely prepare a dip and serve it on the side for friends and family to use. Ranch dip will go great with the carrots and tomatoes, but you can also make a cream cheese dip to go with the fruit.
Can I make the Bunny Charcuterie Board in advance?
It's best to make the charcuterie board a few minutes before serving to ensure freshness. However, if you need to make it a day in advance, be sure to wrap it tightly with plastic wrap to keep it fresh.
More Easy Charcuterie Board Ideas
Check out these themed charcuterie board ideas
Try These Fun Ideas For Your Easter Celebration
Yield:

6-8 servings
Bunny Charcuterie Board
You can't go wrong making this Bunny Charcuterie Board. You'll love how adorable it turns out! This charcuterie board is an easy appetizer idea for your Easter Dinner menu.
Ingredients
3-4 Kiwi, fresh sliced
1 cup Cantaloupe, diced
8-10 Strawberries, fresh
1⁄2 cup Blackberries, fresh
1 cup Small fresh mozzarella balls
1⁄2 cup Colby jack cheese, diced very small
1⁄2 cup Fontina cheese, diced very small
1⁄2 cup Pepper Jack cheese , diced very small
1⁄2 cup Cheddar cheese, diced very small
12-16 Baby carrots
10-12 Baby Tomatoes
6-8 Peppered salami
6-8 Genoa
Instructions
Fold the meat into quarters and use a long wood skewer to hold the meat.
Place the meat skewer on the board.
Place the variety of small cheese chunks on the board.
Using the mozzarella balls rim the bunny ears.
Fill in the bunny ears with the small chunks of cantaloupe.
Place the various fruits on the board to fill in the blanks.
Serve with crackers and enjoy...
Notes
1 large Bunny shaped board