Red, White & Blueberry Salad 
Prepare a fresh and festive salad for the 4th of July with this easy recipe for Red, White & Blueberry Salad. This patriotic recipe is full of flavor and naturally good for you, making it the perfect summer salad recipe
This post may contain affiliate links. We may receive a small commission if you click and purchase something. Please see our disclosure policy for more details.
When you're looking to change your salad routine up from the typical garden or caesar salad, look no further than this recipe for Red, White & Blueberry Salad. It takes minutes to prepare and will be quickly devoured by you as you enjoy the fresh and invigorating taste of the ingredients paired perfectly together to create something amazing. If you're in the mood for a unique yet bold and delicious salad, this is the perfect recipe for you.
Blueberry season is in full swing and this recipe has a generous amount of sweet blues. I just love the summer and fall months when fresh produce is at it's peak. Be sure to check out your local farmers' market for all the fresh goodness. You can read all my tips on shopping at your local farm market here.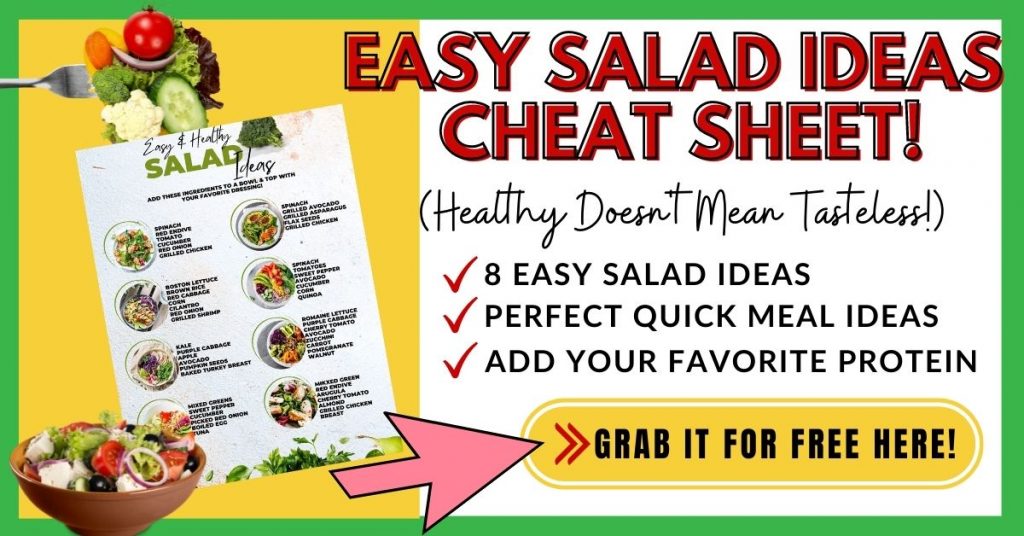 What Does This Salad Taste Like?
The Red, White & Blueberry Salad has the perfect combination of sweet and savory ingredients. From the sweet taste of the blueberries to the more savory and even slightly salty taste of the crumbled pieces of blue cheese, you can expect to experience a very unique yet delicious and amazing flavor combination with each bite of this fresh, flavorful salad.
Salad Must-Haves – The Ingredients You Need
Preparing a refreshing salad has never been this simple. You won't need much at all to prepare the Red, White & Blueberry Salad. If you have these ingredients, you'll be ready to assemble your salad in no time:
Romaine Lettuce – Cut your romaine lettuce into smaller pieces, making it easier to bite and chew them.
Bok Choy – Be sure to chop the bok choy with the romaine into small pieces!
Strawberries – Rinse your strawberries and chop them into small pieces to toss on top of your bed of lettuce.
Blueberries – Rinse your blueberries with your strawberries and add them in the mix.
The only other ingredients you'll need are crumbled pieces of blue cheese and some blueberry balsamic vinaigrette to drizzle on top for that perfect touch.
What if I don't like blue cheese, can I use something different as a replacement?
If you're not too fond of blue cheese, you can always replace it with feta cheese or even mozzarella cheese, whichever you like best.
What Other Lettuce Can I Use In This Summer Salad Recipe?
You can substitute any favorite lettuce you like in this recipe. If you don't like Bok Choy, feel free to substitute with baby spinach, spring mix, or arugula to name a few.
Can I use any kind of tomatoes?
Of course! While grape tomatoes are a great addition to the salad, you can use any type of tomato that you already have at home.
Will nuts taste good when added to this salad?
Yes! Nuts will give this salad an added crunch, which goes great with the strawberries, blueberries, and lettuce. You can use chopped peanuts, walnuts, or even almonds.
If you're a fan of fresh, flavorful salads, give this Red, White & Blueberry Salad a try. It's a simple yet refreshing meal that you can enjoy as an appetizer, lunch, or dinner, whenever you're in the mood for it. Not only can you assemble it in minutes, but you can also customize the salad by using different ingredients to enhance its taste even more. It's the perfect light and delicious meal to have, especially on a warm day during the summer months.
Try These Easy Recipes
Must-Have Recipe Resources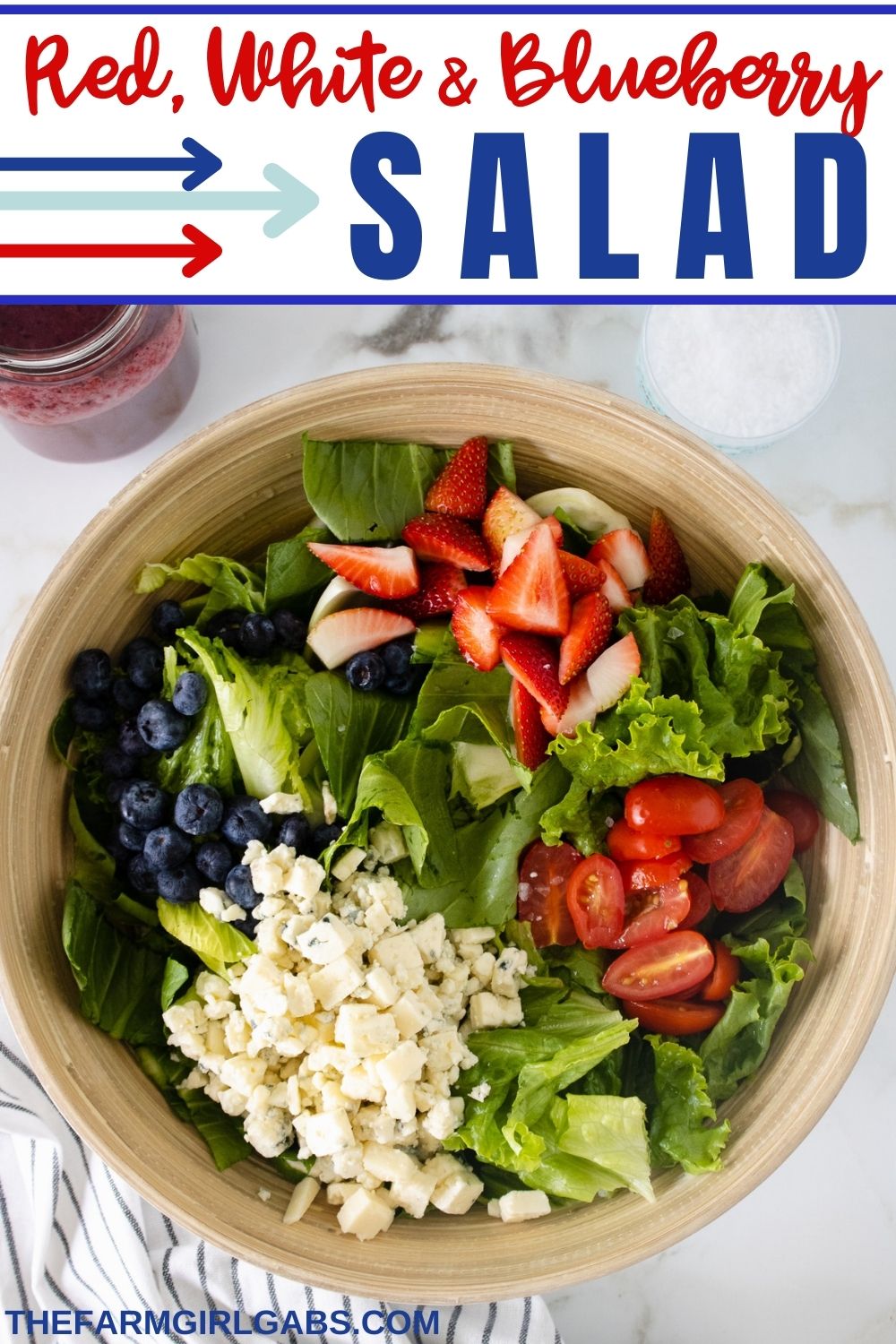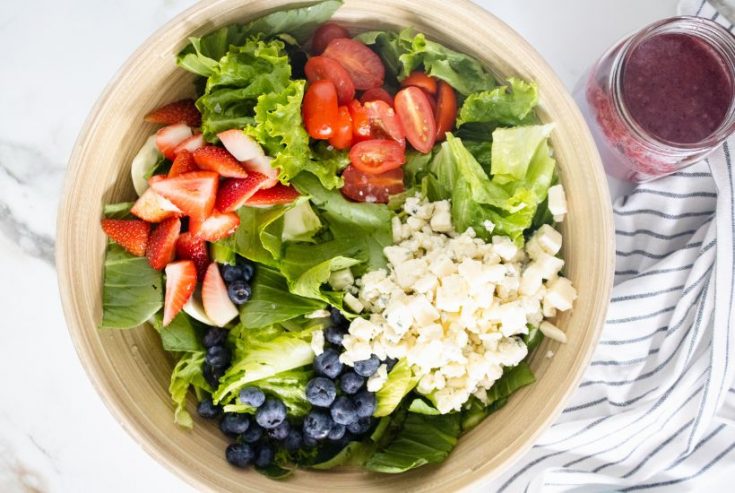 Yield:

3 servings
Red, White and Blue Salad
Prepare a fresh and festive salad for the 4th of July with this easy recipe for Red, White & Blueberry Salad. This patriotic recipe is full of flavor and naturally good for you, making it the perfect summer salad recipe
Ingredients
Salad
1 head Romain Lettuce, torn into bite sized pieces
1 head bok choy, chopped into bite sized pieces
4-6 oz Grape tomatoes
4-6 oz Blue cheese, crumbled
1 1/2 cup Fresh Strawberries, chopped
1 1/4 cup Fresh blueberries
Blueberry balsamic vinaigrette
Dressing
1 cup blueberries (fresh or thawed)
¼ cup balsamic vinegar
2 1/2 Tbsp honey
1 Tbsp lemon juice
1/8 tsp pepper
1/8 tsp salt
½ cup garlic infused olive oil
Instructions
Salad

Chop the bottom root off of the bok choy about 1/2 from the bottom and discard. Cut into bite-sized pieces (the green & white) and wash. Add to a salad bowl and set aside.

Wash the head of romaine lettuce, pat dry and tear into bite-sized pieces. Add to the salad bowl and toss to mix the greens.

Half the grape tomatoes.

Chop the strawberries.

Add tomatoes, strawberries, blueberries and blue cheese crumble to the salad.
Place in the fridge to chill while making blueberry balsamic vinaigrette or until ready to serve.


Blueberry Dressing
Add blueberries, honey, balsamic vinegar, lemon juice, salt and pepper to a blender. Blend until smooth.

Slowly pour in the oil.

Blend until smooth and creamy. Store in an airtight container or mason jar and place in the refrigerator for up to 5 days.