Epcot Pro Tips: Handle Epcot Like a Disney Expert
If you are unfamiliar with Epcot and not sure how to plan a day there, follow these 5 Epcot pro tips to beat the learning curve and get more out of your day.

This post may contain affiliate links. We may receive a commission if you click and purchase something. Please see our disclosure policy for more details.
Epcot is the second largest park in Walt Disney World and it is made up of two hemispheres. The first section of the park is Future World. This section is dedicated to the contributions of science and technology to our world. The World Showcase is the second, with a focus on different cultures around the world. If you are unfamiliar with Epcot and not sure how to plan a day there, follow these 5 Epcot pro tips to beat the learning curve and get more out of your day. Before you go, check out my Disney Packing Lists resource page for free Disney packing lists you can download and print.
Epcot Pro Tips: Handle Epcot Like a Disney Expert
Tier 2 Advance Fastpass+
The first of my five Epcot pro tips may seem counter-intuitive, but it's the best way to get more out of Epcot. When you are able to make your advance Fastpass+ selections you get to start with a tier 1 attraction and two tier 2 attractions. Tier 1 attractions are the most popular and tend to have long lines. However, there are spaced very far apart and using your first Fastpass on a Tier 1 ride can paint you into a corner, or cause you to rush through several acres of pathways to keep yourself on schedule. Make your first three attractions Tier 2 attractions and schedule them no earlier than 9:30. The lines will not be long at opening so Fastpass isn't yet necessary.
Test Track Standby
You want to get to the main gate early so you can get in at 9:00. Head to the first Tier 1 attraction right away. This is Test Track. You don't want to miss Fastpass for Test Track because it robs you of one of the crucial elements of the attraction. The queue contains a portion where you stop to design you own car. It's the design you create that gets put through tests and ranked against other designs during the attraction. This is half the fun of the ride, but the Fastpass return queue skips it over. When the ride is over, you can burn off your three Tier 2 Fastpasses before World Showcase opens at 11:00. Then the lines in Future World will get lighter again.
Pick up Passports
There is usually a festival going on in Epcot. It's almost like a third park option with all of the kiosks and events you can participate in. Because of the scope of Epcot, particularly during Festival times, you should dedicate at least two days to the park. That is if you have the extra days. Either way, pick up a passport at the park entrance for info on all of the kiosks and stickers to mark the ones you've gone too. This is a free souvenir with great memories attached. Plus, it helps you stay in the know about what is going on and where.
Coral Reef and Via Napoli Dining
Epcot is known for its dining and you are hard pressed to make a wrong decision. You should really (pardon the expression) go with your gut. However, there are two spectacular restaurants that happen to have strategic value as well. Via Napoli is located in the Italy Pavilion in the back almost halfway around the world showcase. Not only is it a convenient stopping point for a break, it is the main attraction of the pavilion. Coral Reef is an underrated table service restaurant tucked behind the Seas pavilion. It's an excellent choice for an early lunch before moving on to World Showcase.
Go Counter Clockwise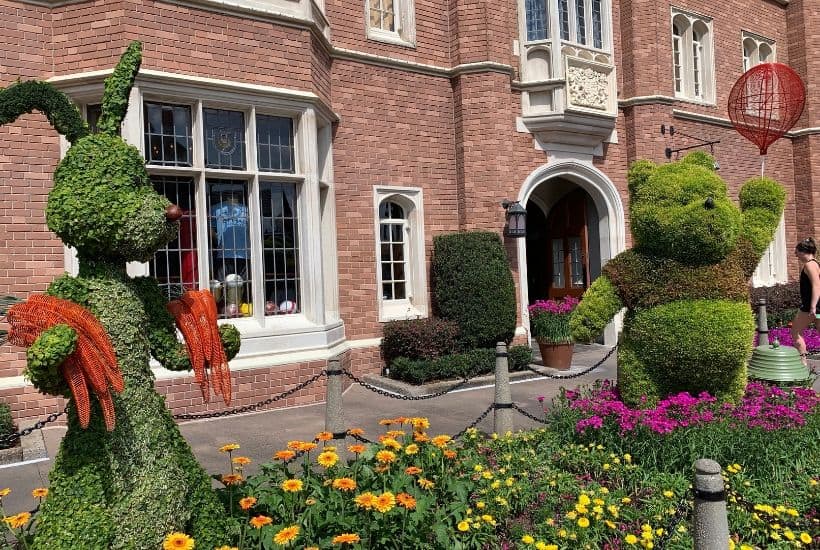 When it comes to World Showcase it makes sense to go counter-clockwise for a couple of good reasons. The Canada pavilion has a little more area to explore as well as changes in elevation. Likewise, The UK, France and Japan have a considerable area to explore compared to pavilions on the other side. Visiting the biggest pavilions first and the easiest pavilions last is a good way to map out your afternoon and evening. You will also be near Frozen Ever After as the night comes to a close when the line is at its shortest.
I hope you enjoyed these Epcot pro tips and have fun putting them to use. Which tip is your favorite?
Heading to the Magic Kingdom next? Be sure to check out my Magic Kingdom Pro Tips too.
Things To Make Your Epcot Day A Little Brighter
Portable Battery Charger
Drinking Around The World Shirt