Grilled Huli Huli Chicken
This flavorful Grilled Huli Huli Chicken recipe is delicious and simple. This Hawaiian-inspired chicken recipe is marinated and grilled to perfection.
This post may contain affiliate links. We may receive a commission if you click and purchase something. Please see our disclosure policy for more details.
I love the versatility of chicken. It's a protein that can be made in a number of ways and taste delicious any way you prepare it. Maybe I am biased because it's my favorite. I first had this grilled Huli Huli chicken many years ago at a family barbecue. After one bite, I was hooked.
This delicious Hawaiian Chicken recipe will be the hit of your next family meal or barbecue. A simple sweet and spicy teriyaki marinade gives this easy chicken recipe so much flavor.
So What Exactly is Huli Huli Chicken?
Huli Huli chicken is a Hawaiian chicken recipe created by Ernest Morgado in 1955 for a farmer gathering. The chicken was cooked between two grills to make a spit. The grills had to be flipped over. And since huli is the Hawaiian word for turn, the name Huli-Huli Chicken was born.
I am told that this is still a popular chicken you can find all over the Hawaiian islands today except it is not called Huli Huli Chicken because Morgado claimed the copyright. If you are in Hawaii, just follow the delicious smell.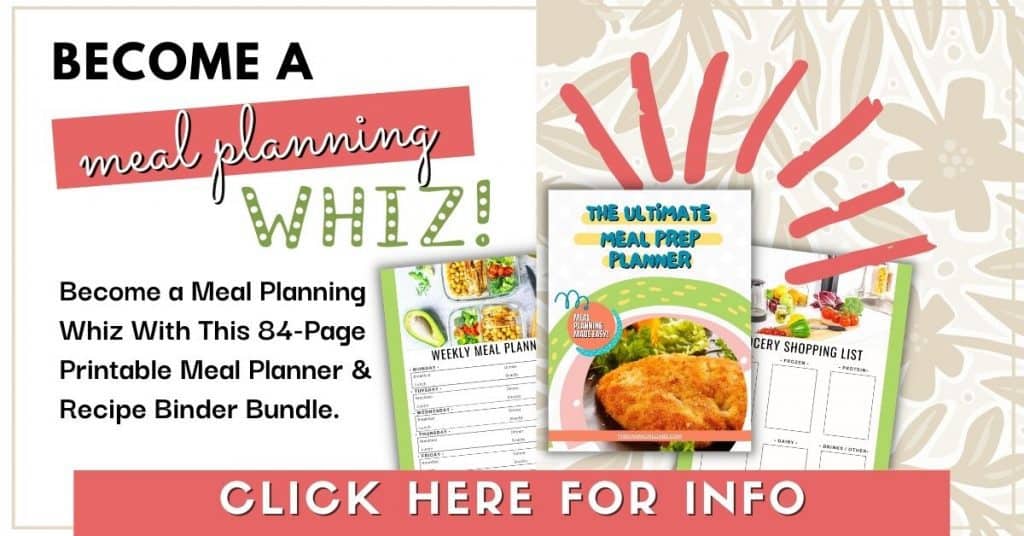 Huli Huli Chicken Recipe Ingredients
Boneless Chicken Breasts
Seasonings: A nice mix of garlic powder, smoked paprika, cumin, salt, pepper, onion powder and brown sugar add a delicious flavor to the chicken
Pineapple Juice
Soy Sauce
Ketchup
Chicken Broth
Fresh Ginger
How To Make Huli Huli Chicken
The key to juicy Huli Huli chicken is to season and soak the chicken in the homemade teriyaki sauce in a large bowl for at least 30-minutes. I prefer to let the chicken marinate for at least six hours for a more in-depth flavor.
Be sure to reserve 1/2 cup of the marinade so you can baste
the chicken when grilling. The aroma is amazing and the grilled chicken is SO, SO juicy.
Grilled Huli Huli Chicken Recipe Resources
Mixing Bowl
Basting Brush
Grill Tools
Grill Pan
Brown Sugar
Soy Sauce
Grill Sheets
Meal Plan Game Plan
Add this delicious Grilled Chicken recipe to your weekly meal plan. Here are a few other items that you can also add to your meal plan game plan too.
Side Dish 1: Apple Raisin Coleslaw
Side Dish 2: Classic Macaroni Salad
Refreshing Drinks: Blackberry Mojito
Eat dessert first!: Jewish Apple Cake
Save this Grilled Huli Huli Chicken recipe for later. Pin the image below to your favorite Pinterest Board.
More Chicken Recipes to Try
Grilled Italian Chicken Skewers
Buffalo Chicken Salad Sandwich
Yield:

5
Grilled Huli Huli Chicken
Total Time:
6 hours
40 minutes
This flavorful Grilled Huli Huli Chicken recipe is delicious and simple. This Hawaiian-inspired chicken recipe is marinated and grilled to perfection.
Ingredients
Seasoning Ingredients:
1/2 cup brown sugar
1/4 cup sweet paprika
2 tbsp smoked paprika
1 tbsp black pepper
1 tbsp chili powder
1 tbsp granulated garlic
1 tbsp onion powder
1 tbsp kosher salt
2 tsp cumin
Huli Huli Sauce:
1 cup pineapple juice, divided 1/2
1/2 cup brown sugar, packed
1/4 cup ketchup
1/4 cup soy sauce
1/4 cup chicken broth
1 tsp ginger paste
1 tsp minced garlic
3-4 lbs boneless, skinless chicken breast
Instructions
In a large casserole dish add your chicken.
Sprinkle some of your seasoning on top of the chicken.
Make sure to flip to coat evenly all over.
In a large bowl, whisk together 1 cup pineapple juice, brown sugar, ketchup, soy sauce, broth, ginger, and garlic. Reserve 1/2 cup of marinade for basting.
Pour marinade over the chicken.
Then cover and refrigerate for 30 minutes to overnight.
Drain the chicken and discard marinade.
Grill chicken, covered, over medium heat for 12-14 minutes on each side or until no longer pink.
Baste the chicken occasionally with reserved huli huli sauce every 5 minutes.
Baste again once the chicken is removed from the heat.
Nutrition Information:
Yield:
6
Serving Size:
1
Amount Per Serving:
Calories:

1692
Total Fat:

34g
Saturated Fat:

9g
Trans Fat:

0g
Unsaturated Fat:

19g
Cholesterol:

771mg
Sodium:

2666mg
Carbohydrates:

46g
Fiber:

4g
Sugar:

37g
Protein:

284g